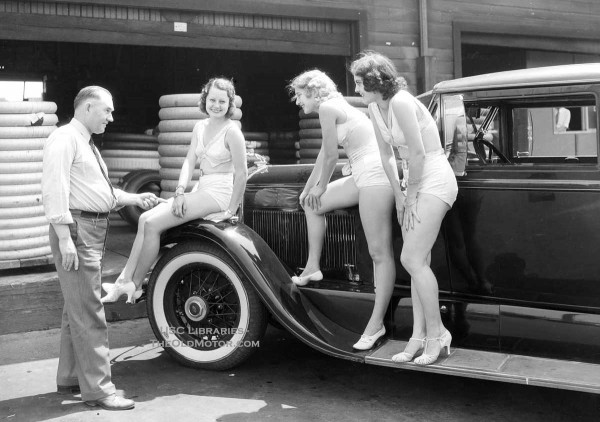 The Great Depression had a devastating effect on the economy across the land, and was at its darkest point when this set of photos was taken during 1933. By this time close to twenty-five percent of Americans were unemployed, and nearly half of the country's banks had failed.
The details of the tire sale appear to have been lost to history, but the signage in one of the images, does give us a clue about the circumstances involved behind it. Apparently by the time they were shipped to the Los Angeles area, the dealers who placed the orders could not pay for them or the shipping charges.
It appears that Guy Bryan or the Pacific Railway and Steamship Clearing Agency rented the Gire Warehouse at 722 Aliso Street in Monterey Park, California, to sell them. The Dick Whittington Studio took these photos of the effort, with presumably Bryan, the models and a Lincoln Sedan as a prop for advertising purposes.
One of the models is holding an NRA poster with the Blue Eagle emblem which represents the National Recovery Administration, which was formed by President Franklin D. Roosevelt to help end the depression. All photos are courtesy of the USC Libraries.