The underslung car was featured at the recent Amelia Island Concours d'Elegance, which makes for a perfect time for all of us to learn a little more about this unique form of car. The two most widely known vehicles of this type are the American, built in Indianapolis, Indiana and the Regal that was built in Detroit, Michigan. The two companies offered  conventional and underslung models at different times while they were in production.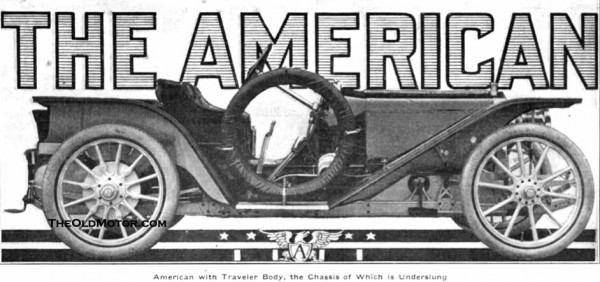 The subject of today's post is the 1910 American that was covered in a feature article in the April 21, 1910 issue, of The Automobile, which has been reproduced here. The American Motors Company (1906-1914) that built the cars, claimed two advantages for its Underslung model: they stated the average car would "turn turtle"on a 43 degree angle, while their model would not overturn until 55 degrees; with its large forty-inch tires, on average it had one-inch more ground clearance than conventional cars.
The Underslung chassis was designed by Fred I. Tone, and the standard chassis by Harry C. Stutz, who left the company by 1907. The first cars used 35-40 HP four cylinder engines, but by 1910 and 1911, 50 and 60 HP models with up to a 124-inch WB were available. The engines were produced by Teeter-Hartley and other builders.
In 1912 and 1913 a smaller 20-30 HP model named the "Scout" was built on a 102 and 105-inch WB chassis'. In 1914, fifty Scouts were left unsold, and that model was dropped from the lineup. Only the larger cars were to be built in 1914, the last year of production that was cut short by bankruptcy and the end on the company.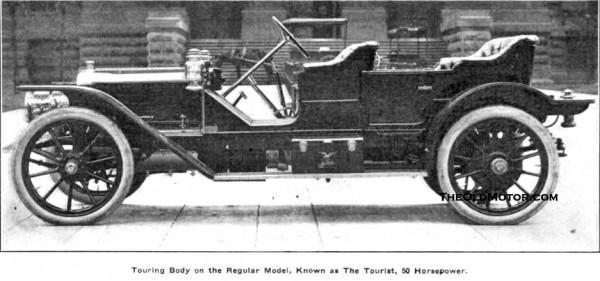 All photos below were taken at the 2014 Amelia Island Concours d'Elegance courtesy of Richard Michael Owen of Supercars.net.