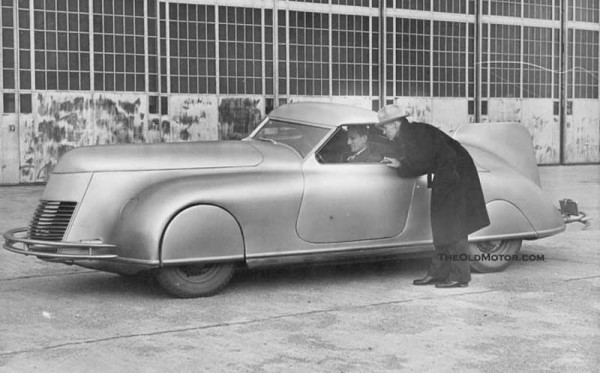 About four years ago this set of press photos was added to our archives and they just came back to the light of the day this week. At the time, it was known that Dan La Lee built the car when Dan Strohl posted them at HMN Daily with some other streamliner photos that came with this set. He found that the car was in the film The World of Tomorrow – a documentary about the 1939 World's Fair in New York, and Robert Cunningham also reported the following at the time:
"La Lee built his ultra-streamlined retractable in 1937 on an 112-inch Ford chassis. He claimed the rakish hand-hammered aluminum body reduced wind resistance by up to 50% due to its advanced streamlining (i.e. "pants" over all four wheels, smooth retractable headlights, rudder-type tail fin, and disappearing convertible steel top)." 
"Electric controls operated the doors and a chain-driven airplane landing gear mechanism was mounted behind the seat to raise and lower the two-piece turret top. The dashboard resembled an airplane cockpit with no fewer than 30 dials, gauges and knobs scattered from one end to the other — even the brakes were actuated from the dash. La Lee claimed his supercharged Ford V8 engine provided fuel economy of 18 miles per gallon at 60 miles per hour and the car could reach speeds of up to 120 miles per hour".
You can view the car in a video showing a short segment of the 1941 movie "Nice Girl" staring Deanna Durbin. The article below was found at Modern Mechanix that tells us a bit more information about it. It has also been discovered recently that it ended up in Egyptian King Farouk's collection of cars in the forties. Can any of our readers add any more to this interesting story?