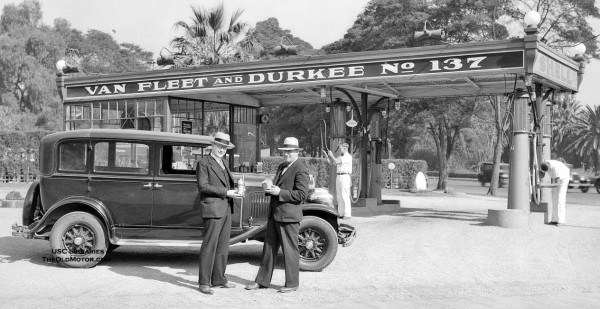 Van Fleet, former assistant sales manager for the General Petroleum Corporation in Los Angeles, and W. P. Durkee, Jr., who was the district manager for General, organized their own chain of gasoline stations in 1929 in Southern, California. The Van Fleet and Durkee station  seen here was one of them and it was located at West 7th Street and South Park View Street, in Los Angeles, California.
The stations handled Shell Gasoline, and it appears that the subject of this set of photos may have been a line of car care products by the Jay Manufacturing Co., which the gentlemen in the photos are holding. In true California PR fashion, the 1929 images used a Chrysler with a set of Woodlite headlamps for a little bit of extra sparkle. The photos are courtesy of the USC Libraries.
More information covering William G. Woods attractive Woodlite lamps can be found here, along with his patent application that was granted on February 28, 1928. Dim, Yet Brilliant, Too by David LaChance at HMN will also give you more background information on the popular lamps.