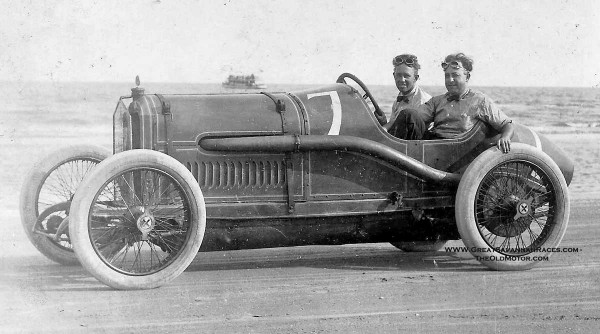 Every once in a while a great photo comes along, and this image of Smiling Ralph Mulford and his Peugeot is one of them. He was at Galveston Beach, Texas for a race held there in 1914. Both Mulford and Peugeot were at the top of their game at the time. The French racing car featured a dohc 16-valve four-cylinder engine, great lines and an excellent handling chassis.
In the three-day event on the beach, Mulford and the Peugeot won all of the fifty-mile races and in the sixteen races that were held, Mulford took first money in ten. The races were clearly a Peugeot-Duesenberg battle between Mulford, Tom Alley and Eddie Rickenbacher, both in their Duesenbergs. The attendance at the popular event was larger than at the Indianapolis 500 race that year.
The photo is courtesy of Tanya Bailey Smith who runs the Great Savannah Races Museum in Savannah, Georgia. You can learn more about the Great Savannah Races Museum here along with Smith's new book on the Savannah Races. Both the pre-war Peugeot Racing car, and the Duesenberg Racing Car have been covered here earlier on The Old Motor.