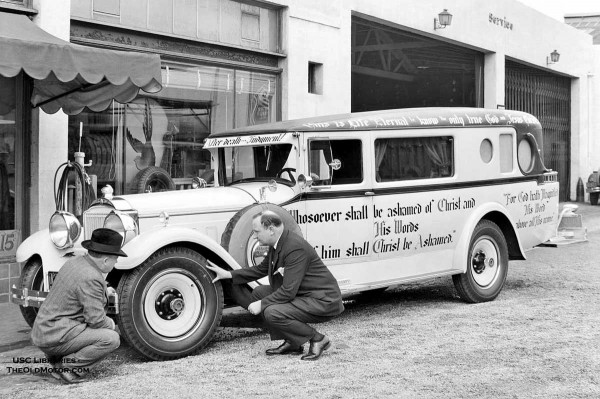 Nels Thompson on the left and his 1930 Packard 740 preaching car is seen posed above with a salesman in front of one of the three Guasti-Giulii Inc. tire shops located in Southern California, after getting a new set of Royal Master Tires. The tire distributors main office was at Eighth Street and Central Avenue in Los Angeles with two more shops at: Pico Avenue and Flower Street, and Sunset Boulevard near Vine Street.
Secondo Guasti Jr. ran the tire shops and was also the general manager of the five-thousand acre Guasti Winery that his father Secondo Guasti, who immigrated to Los Angeles from Italy started in South Cucamonga, California in 1901 (an interesting story). You can learn more about the company village he built there for his family and workers that is now a ghost town at Spirits of Guasti.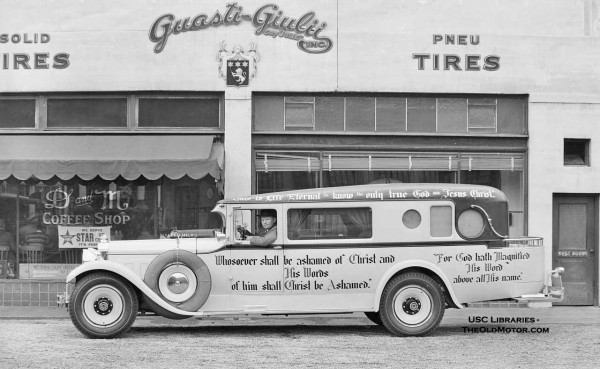 The Preachers Model 740 Packard is on a Seventh Series, Custom Eight chassis that has been lengthened and wears custom coachwork that appears to have been built by a hearse or ambulance maker. The 740 featured a 384 c.i. straight eight engine and a new four-speed transmission that was introduced that year. The Royal Master Tires were produced by the U. S. Rubber Company. The photos are courtesy of the USC Libraries.