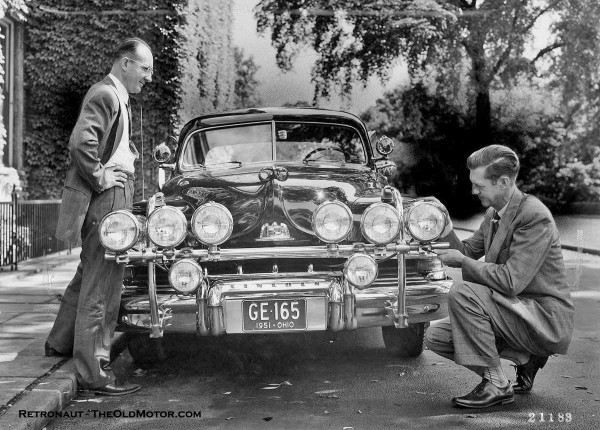 The sealed beam headlamp, a major advance in automotive lighting was introduced after a three year long development program in August of 1939. General Electric in cooperation with other lamp manufacturers and the American Association of Motor Vehicle Administrators publicly introduced the new headlamp at Nela Park, in Cleveland, Ohio, the site of the electric company's laboratories where its lighting research was done.
The 1951 photo above shows GE automotive lighting engineers Val J. Roper, and George E. Meese with a Lincoln that the company was using twelve years later for testing various sealed beam lamps under actual driving conditions. The photo is via Retronaut and is courtesy of Cleveland History where you can learn the interesting story behind Nela Park. The very advanced facility, called the University of Light was one of the first industrial parks in the country that was first opened in 1913.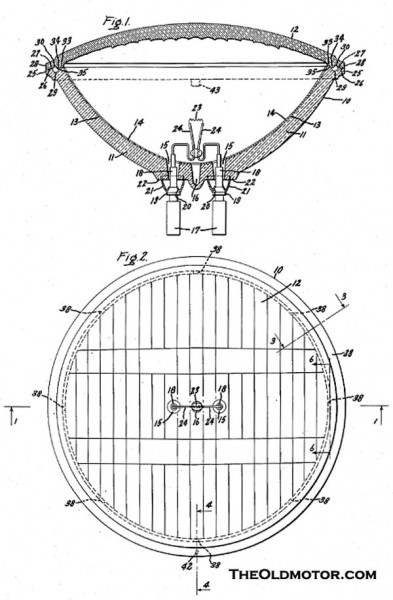 The 1938 drawing above shows a design that GE received a patent for on February 21, 1939. You can clearly see the glass lens, #12 in the drawing and the rear reflector section, #11 which was aluminized by vaporization of the metal in a vacuum. The two sections of glass were then fused together by localized heating of a small portion of the two joined sections. The tungsten light filament, #23 and its support and wiring connectors behind it can also be seen. The assembly was filled with an inert gas to prolong the life of the lighting element. The complete details of the patent can be found here.