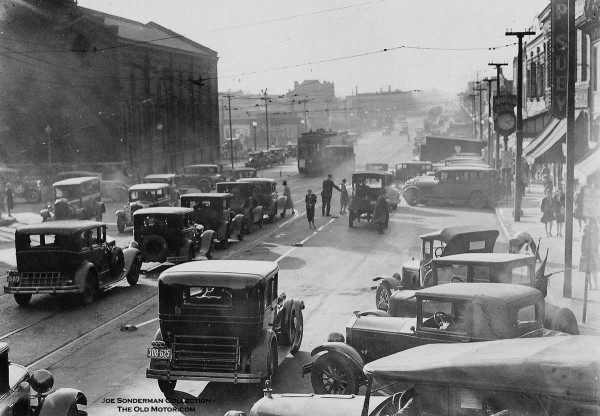 The St. Louis intersection of Delmar Boulevard and DeBaliviere Avenue, which enters from the left, is seen here in a view looking west in 1930. The large building on the left has been reported to be the streetcar powerhouse, and it has survived to this day. Most all of the buildings on the right side of the photo are gone. The street clock that is visible on the sidewalk on the right was in front of a grocery store that can be seen in the bottom photo.
A traffic lane can be seen just to the right side of the street car tracks between the Pierce-Arrow and Packard sedans. Note the white painted stripe with a series of reflector units to guide vehicles after dark. A traffic cop is working the center of the intersection and assisting pedestrians. Tell us what vehicles you find interesting in the scene, and the identity of the touring car with the hood vents in the bottom right hand side of the photo if you can.
The Moll's Food Market which is on the far right side of the photo above can be seen below. Note the ornate advertising clock on the sidewalk in front of the store in this circa 1932 photo. Photos from the Joe Sonderman Collection.