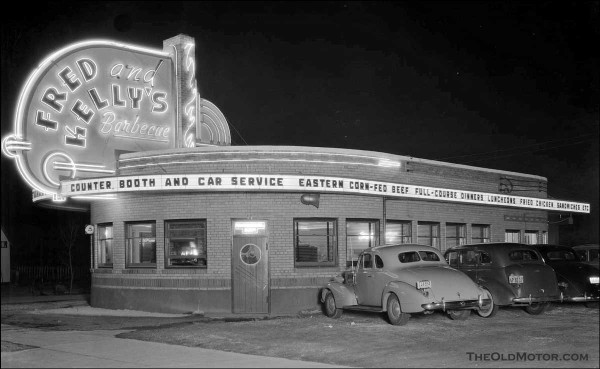 One glance while driving down the road at this distinctive-looking restaurant back in its time, would surely tempt oneself to pull in and get something to eat or drink. Fred and Kelly's Barbecue had an oval shape, and the addition of the imaginative neon signage must have really helped to pull in customers off the road.
The eatery may have been located in the Salt Lake City, Utah area. After a search, an interesting article was found in the July 15, 1942 Desert News, a newspaper published in the city. It told of the roadside establishment being robbed of two hundred and four dollars the previous evening. Photo via Carros Antigos. Many more neon signs here.
*Update* Thanks to readers Hugh N. Coltharp and Terry Roddick we now know the location was at 1084 S. State Street in Salt Lake City. Terry sent a link in his comment to the present day street view.