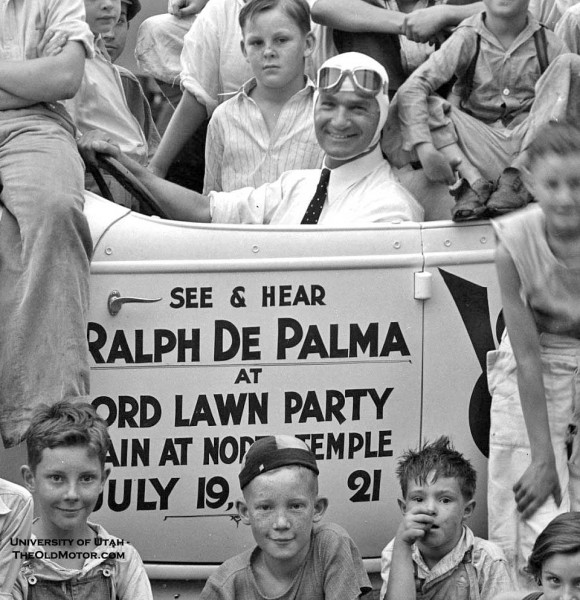 * Update * – Thanks to Ivan Pozega we now know all the details of the Ford Lawn Party, which was held at Main and North Temple Streets in Salt Lake City. Read his comment that contains an article in the July 20, 1934, Salt Lake Tribune. Thanks to all who sent in details.
Ralph DePalma enjoyed a long and successful auto racing career that began in the same way as many other early racers did, he first started with bicycle racing and then followed up with motorcycles. Shortly after switching to cars he came out on top in the standings at the end of the season on the AAA national circuit between the years of 1908 and 1911. He won the big road races at Elgin in 1912 and 1914, the Vanderbilt Cup race in 1914 and Indianapolis in 1915.
He went on to a long and successful career in which he entered an estimated two thousand races between 1909 and 1934, the year this set of photos was taken. DePalma a hero of many at the time, appears to have been working in some sort a Ford Lawn Party promotion for the automaker, and the images were likely to have been taken in the Salt Lake City, Utah area. You can view many more photos of DePalma here. Photos via Carros Antigos from the University of Utah.