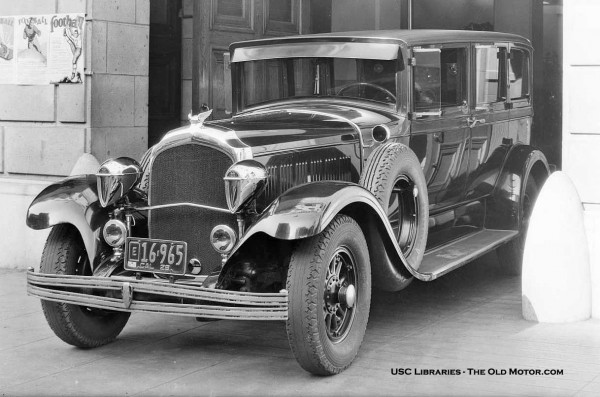 *Update* at the bottom of the post.
Woodlite headlamps, invented by William G. Woods came on the market late in the roaring-twenties and were distinctive, and attractive. From what little information there is to be found surrounding the futuristic looking headlights today, it appears that Don and Charles Benton manufactured both the head and parking lamps in the Los Angeles area and had this set of promotional images taken there during 1929.
Buffing lamps at the factory and a 1929 Packard detail photo showing a "Woodlite" headlamp and a parking lamp mounted on the fender.
Seen at the top is a pair of the headlamps on the Los Angeles Fire Chief's Chrysler. The photo below shows a Chrysler 75 Roadster demonstrator apparently belonging to the Moore Brothers Motor Co. that appears to have been a dealer for the automaker in the Los Angeles area.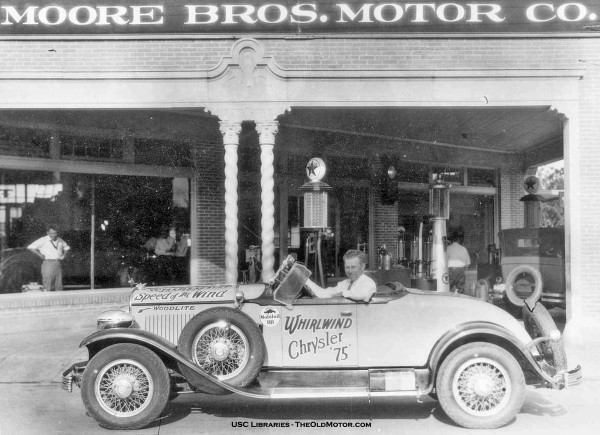 Below left we see a Kenworth ten-wheeler modeling a pair of Woodlites, apparently to try to get truckers and trucking companies interested in using them on their rigs. In the center is a photo of what may have been a prototype taillight later in 1930. On the right is a Packard Phaeton that was used for carrying an Exalted Ruler for a fraternal organization.
And finally below we see a rare DuPont modeling a pair of Woodlites. You can learn more about the innovative lamps and also see the patent drawings for them here in an earlier post on The Old Motor. If you can add any information about any of the vehicles or the locations seen in the images let us know. The photos are courtesy of the USC Libraries.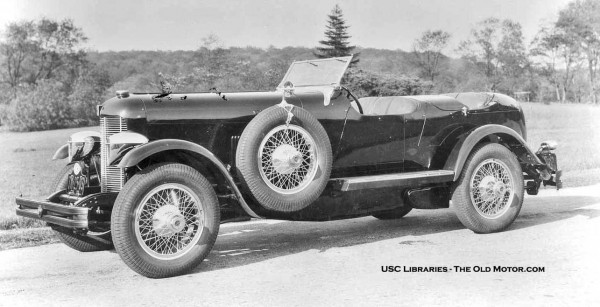 According to Everett Miller a pre-war designer of automobiles and respected post-war historian, quoted in the September – October 1971 Ford Life magazine: "The lamps were not really superior to other lamps at the time, but they did serve a good functional purpose. Rather than throw a narrow beam of light as one might expect, a functional feature was to throw a beam of light a further distance than the regular round headlamp".