The Greyhound Line started back in 1914 when Carl E. Wickman began transporting miners in Minnesota from Hibbing, to Alice, for fifteen cents a ride. The regional transit line expanded rapidly and by 1918 it was operating close to twenty buses. They were soon dubbed Greyhounds after the Fageol Safety Coach came into use in the early twenties because of their gray paint and sleek appearance. The running dog was first used as the company's logo in 1929.
After further expansion its corporate offices were moved from Duluth, Minnesota, to Chicago, Illinois, during 1930. Only a year later the Great Depression was threatening the company's future, but in 1933 a turnaround point was reached when the bus line became the official transportation carrier for the 1933 Century of Progress in Chicago. From that point on the company prospered and in the mid-thirties introduced modern style buses with an all-metal bodies and rear-mounted engines.
The photos seen here begin in 1937 at the top of the post with an A.C.F. (American Car and Foundry Company) Brill Suburban Motor Coach that was a 42-passenger unit with rear-mounted under-floor Hall-Scott power. The photos above showing refreshments being served and a restroom all date from 1942. Below is a pair 1941 images of another larger style A.C.F. Brill, first introduced in 1937; this bus features air conditioning.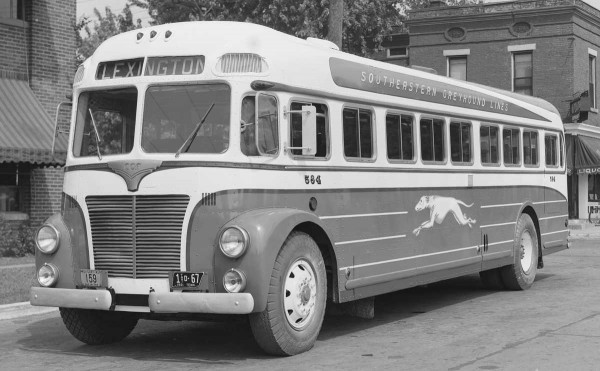 The photos are courtesy of the University of Kentucky and were taken in Lexington, which was the home of a large Greyhound Terminal. More can be learned here about American Car and Foundry which added buses to its line starting in the mid-1920s. Look for some more interesting post-war Greyhound photos in Part II.