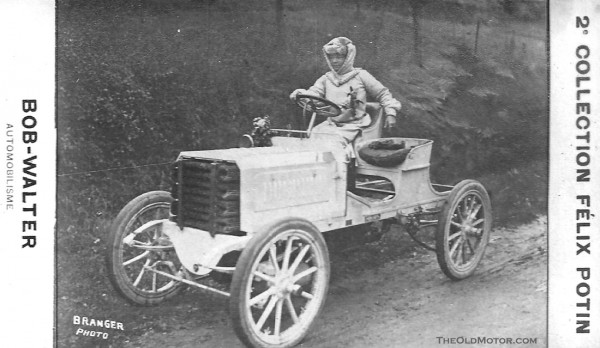 By: Ariejan Bos
You may wonder if this title has anything to do with automobile history, but it really does. It appeared as the title to the obituary of Madame Bob Walter in the Auckland Star of April 13, 1907. The name Bob Walter will sound familiar to those of you that have studied early automobile history, because she was prominent enough to be included in the Felix Potin photo collection with other famous early racers. But since then her story seems to have been lost into the mists of time. I will try unravel this a little, based upon some information and photographs I have collected and uncovered just recently.
Mme. Bob Walter was born as Baptistine Dupré in 1853 in Toulouse, France (some sources also mention 1856 in Blidah, Algeria, which was French at the time). She was raised in Paris, but not much is known about her during this period. She earned some fame in the early 1890s when she created and performed a line of pantomimes and luminous dances in several Parisian theaters.
Next she appeared as a lion tamer in the Gaité Theatre and her star soon rose quickly. Soon thereafter she turned in a totally different direction: she became the first woman to open a garage in Paris at No.83 Avenue de la Grande Armée, which was the center of the French automobile scene, and began dealing in automobiles. She also turned this into a successful venture.
Soon she proved herself to be an excellent racing driver as well. During the 1902 races in Deauville, she covered the kilometer in 40 seconds (56 m.p.h. or 90 km/h) with a Vinot & Deguingand. It was reported (no proof has been found) that during the Gaillon Hill Climb races of 1902, she was faster than Léon Théry one of the top drivers in the early 1900s.
Most of the photos of her at the time show her behind the wheel of a Vinot & Deguingand, but during the 500m event at Deauville in 1903 she drove a Panhard & Levassor. The last photo in the post below shows her sitting in the passenger seat of a 1902 Mercedes that was probably taken in Deauville in 1902.
After all of her earlier pursuits she went on to earn fame with her next enterprise: the arrangement of elopements. Couples who wanted to marry, but had unwilling parents, could hire an automobile from Madame; a very comfortable reddish-brown 1906 Panhard & Levassor 35-hp. berline (having a little Cupid on the doors!) with one of her drivers Frédéric or Vaudoyer. The driver would elope the lady at a convenient moment, pick up her lover and drive somewhere far away to marry.
The parents were happy most of the time, when their daughter returned unharmed, but if this happiness also included the marriage might be doubtful. Her fame soon spread worldwide as she was interviewed about her business in the Los Angeles Herald of June 22, 1906. An American customer described her on one her publicity postcards as very lady-like and affable, qualities which undoubtedly contributed to her fame and success in life.
She died in 1907, and was buried at her estate in Algeria and was apparently soon forgotten. Why she never reached the status of Mme du Gast, even though her achievements were certainly equal, is not clear. As a woman she certainly played a role in the early history of the car, although not all people may have appreciated everything she accomplished.