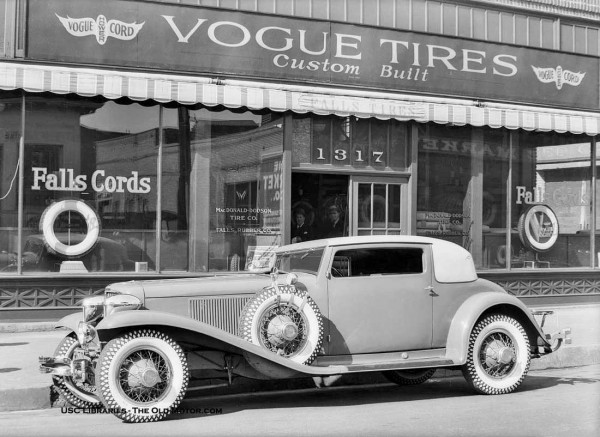 * Update * Randy Ema has identified the coachwork on this Cord as being Weymann and also informed us that the car has survived.
The Vogue Tire Company is celebrating one-hundred years of building custom and luxury tires in 2014. Harry Hower, a Chicago area chauffeur, went into the tire business in 1914 and a few years later proposed his new idea idea for the whitewall tire to the Woodbury family. They partnered, and the tire company was born.
In the mid-twenties, Loyd Dodson became the Western distributor for the company along with Falls Cord Tires and began selling their distinctive whitewall tires in Los Angeles for Harry Hower and Margaret Woodbury at the MacDonald-Dodson Tire Co. seen here in these photos.
Mr. Dodson wrote in his memoirs: We struggled through the Depression years by marketing Vogue Tires in Los Angeles to the motion picture stars, etc., who still had relatively good incomes and could buy large cars, practically all large-car sales were based upon six tires. 
The image at the top, dated as being taken in 1929 shows a front-wheel drive L29 Cord wearing custom coachwork and modeling deluxe double-whitewall Falls Cord Tires. The sleek coupe body may be a metal-covered Weymann body, but we would like to hear you opinion as to which company constructed it. Take a close look at the enlargements above and view the unique tire sidewalls, the Woodlites and the single steerable Trippe lamp and its linkage attached to the pitman arm.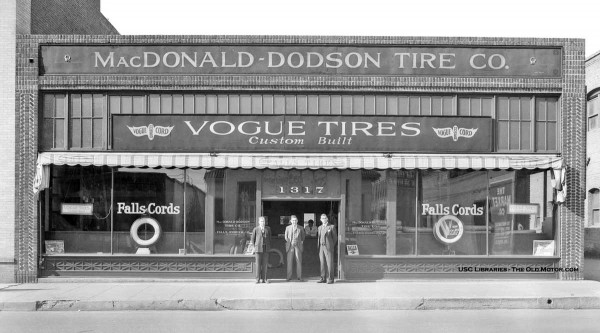 The photo above shows one of the two MacDonald-Dodson Tire Co. stores in the area at 1317 S. Hope St. in Los Angeles. Reader Gaylord Wilshire has reported here in the past that: "The building still stands, although, unfortunately, with an altered facade."
Reader Steve MacDonald in an earlier post told of his relatives involvement in the tire company: My grandparents were the "MacDonald" partner. (John and Lois MacDonald). The "Dodson" partner was my uncle and aunt (Loyd and Bernice Dodson). Lois and Bernice were sisters.
Later the partners opened another outlet in Los Angeles, and in 1942 Loyd Dodson bought Vogue Tire Company for $50,000 and remained its chairman until his death in 1996.
Paul Whiteman the famous American Bandleader (1890-1967), owned this L29 Cord Cabriolet that is also shown here in front of the MacDonald-Dodson Tire Co. wearing a 1930 license plate. You can take a look back at an earlier photo of Whiteman and his Cord on The Old Motor also in front of the Vogue Tire Store and the full details behind the L29 here.