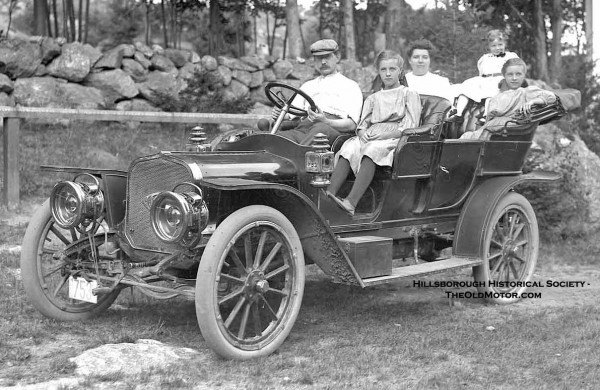 Hillsborough, New Hampshire, has long been a favorite place in the area to have a summer camp on scenic Franklin Pierce Lake, which was named in honor of the 14th President of the United States who was born there in 1804. The location of the photo above was at The Birches on the lake, at a camp owned by William H. Manahan, Jr., who took many of the photos we have been posting from Hillsborough Historical Society.
The Corbin pictured above was an automobile of good quality manufactured in New Britain, Connecticut, by the American Hardware Corp. between the years of 1903 and 1912. We believe this car is a 1907 Model H and it used a 4 1/4″-bore x 4 1/4″-stroke engine rated at 24-h.p. that can be viewed in the center above. More Corbin articles can be found here.
Tim Martin was able to identify the owner of this car in a Massachusetts Registry book by using the 1908 license plate number 753 as Charles S. Adams of Wollaston, a neighborhood in the city of Quincy which is south of the Baystate City of Boston. Gil Shattuck of the Hillsborough Historical Society filled us in on some interesting details about Adams: He was a descendent of the two U.S. presidents and was a practicing MD. Adams was the brother-in-law to photographer William H. Manahan, Jr.