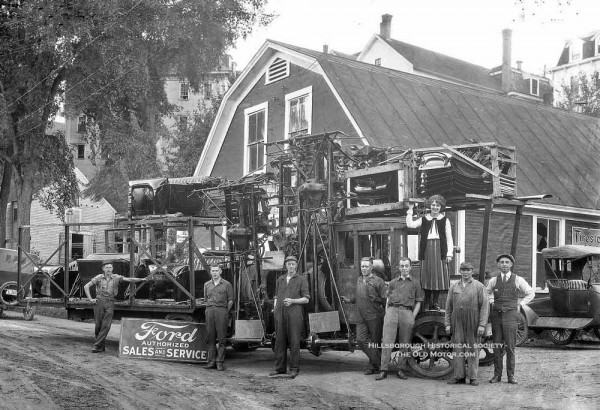 This photo is perhaps one of the most entertaining and interesting pre-1930 car dealership images we have ever seen. The photo was staged to show the latest shipment of Fords to arrive at Frank Boyd Ford Sales and Service, a small town agency located in Hillsborough, New Hampshire.
The trucking arrangement was likely used to save on railroad shipping and handling costs which resulted in more profit for the dealer. Ford had an assembly plant in Cambridge, Massachusetts that was only a little less than ninety miles away and this truck may have delivered them from that plant. It is not known if the rig, appearing to be outfitted only for carrying Fords was owned by a trucking company, an independent trucker or the dealer.
After studying a large scale photo of the truck and its cargo being shipped in knocked-down or partially assembled form, we have been able to determine just what was loaded on it. At least two Ford Model TT Truck and possibly three Model T Car chassis' minus wheels are loaded vertically on the sides of the truck and on the bed in the center.
Crates containing front and rear fenders are mounted on a rack above the cab and the front of the truck. In the middle between the stacked chassis' can be seen the wheels and tires and other parts. The bed and the rack on the rear are carrying both roadster and touring car bodies. The photo dates from the 1919 to 1924 period.