George Schlitz must have thought big, in 1914 he converted the 120 passenger Stephenson bus below, so that it could be pulled by motive power. Previously it was considered to be the largest horse drawn bus in the world and it was pulled by ten horses. George modifi-ed it so that it could be pulled fifth wheel style by a Martin Tractor which was produced by the Knox Automobile Company of Springfield, MA.
Schlitz used this Martin pulled bus to transport passengers to and from Brooklyn into New York City. Stop and think about it for a moment and envision what this operation must have really looked and sounded like at the time in crowded city streets. It appears that Schlitz may have increased the capacity of the bus by also putting passengers on the roof, which we have observed in photos of other buses of the time. The roof was accessible from ladders on the bus body.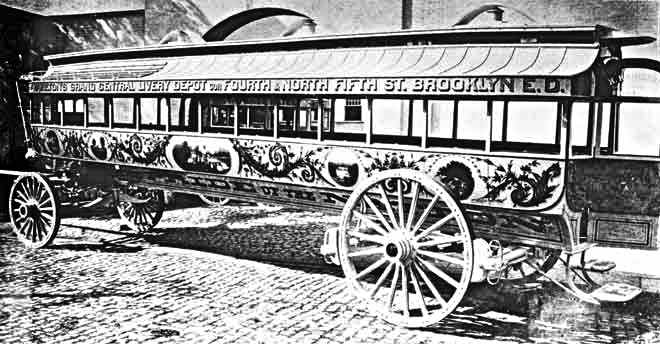 Below is a photo of a Martin Tractor hauling a garbage container, it gives you a good look into the Martins makeup. Note the double chain-drive and the unique steering arrangement.