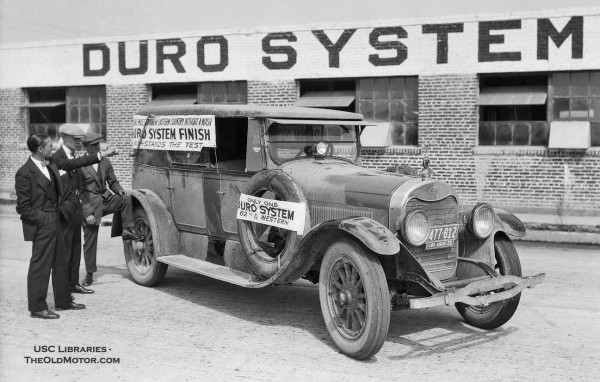 The Duro Paint Company had just concluded a long distance test run in 1924 with this early Lincoln Touring Car equipped with a California top and refinished with the Duro System when this set images were taken. The signage for the publicity photos stresses that the tour was covered Without A Wash. Two close-up shots below show one of the men wiping the grime off of the car to demonstrate just how well the Duro System held up.
In addition to the Lincoln, the company also had the Curtiss Jenny seen above and below painted with Duro signage and Paul Engstrum's name lettered on it to advertise in the sky above Los Angeles. Engstrum was a structural engineer with a few business interests and worked with his father, one of leading commercial contractors in Los Angeles. We have not been able to link the two together otherwise, but it is possible he owned the Duro Paint Company.

No further information was readily available about Duro, other than the advertisement above that was found in the Los Angeles Herald newspaper on December 13, 1909. It was one of a series of ads at the time in the paper for Mack's Duro Paint Shop, and there may be a possibility that this was the origin of the refinishing system.

Duro was located at 62nd and St. Andrews Place in Los Angeles, California at the time these publicity photos were taken. Below we see two Duro representatives playing a game of checkers on the hood of a Model "T" Ford painted with the board game pattern. The poster leaning on the windshield tells of Complete Refinishing in 2 to 6 Days. The Ford Coupe is equipped with a few aftermarket accessories: a plated radiator shell and guard, headlights and a lowered front spring. The photos are courtesy of USC Libraries.