Russell Holden's daughter Andrea Holden who can start and drive this 1902 Thomas Flyer, is posing with it wearing a NSW Australian license plate

Steve Hammatt from Washington State offers a unique service for early car collectors whereby he makes original style leather license plates. It is done in the style as many were originally, by first rim-stitching two thick layers of oil-tanned black cowhide harness leather together. Period style aluminum numbers and letters are then attached to the plate  and the holes for mounting are punched. Steve is also a plate historian and describes the beginning efforts concerning the licensing automobiles:
"Early in the history of automobiles, governments wisely decided that some form of registration was required. Some of the first licensing efforts began in Europe, and then quickly spread to the northeastern United States. The state of New York (and the City of Cleveland, Ohio) first required license plates for motorcars starting in 1901."
         Cars wearing leatherplate.com reproduction license plates
            1909 Ford – 1913 Pierce-Arrow – 1907 Stevens-Duryea
"Soon the practice spread across the Northeast; however once registered, the motorists themselves needed to supply the actual license "tags" or "plates" with the appropriate registration numbers. The most common construction was of house numbers riveted onto a leather base".
"In 1903 Massachusetts started issuing their official license plate (dark blue with white lettering) made from an iron plate coated with porcelain enamel. Slowly over time, additional states not only registered automobiles, but also supplied the motorist with the state's official license plate, thus ending the pre-state era of US auto license plate history. The last states to adopt suppling their own license plate were South Carolina and Texas, both in 1917″. Visit with Steve Hammatt at leatherplates.com to learn more about his uncommon service.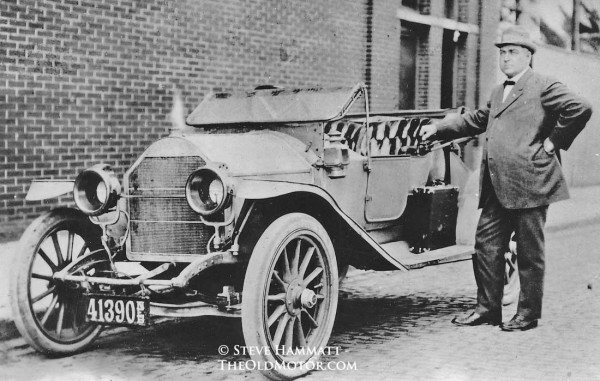 *Updated* Ariejan Bos has identified this car as being a 1911 Marion Torpedo Roadster. We have added two Marion ads and a photo of a Colonial Style Coupe below that uses the same gas tank and trunk on the rear. This photo shows a surviving 1911 Marion Torpedo Roadster.
Steve sent us this postcard image of an unknown circa 1910 to 1912 roadster that is wearing a 1915 Nebraska leather pre-state license plate. Efforts so far to identify it have not been successful, but hopefully our knowledgeable readers will be able to; please let us know what you may know about this car.
Hammatt also manages two internet brass car groups that are an international exchange of fact and fancy and are very helpful to car owners and members of both: Brass Buick's caters to over five-hundred pre-1916 Buick enthusiasts at www.BrassBuicks.org and The Early Cadillac Group (1903-14) at www.EarlyCadillac.org with four-hundred members. Check them out if you are interested in either make.