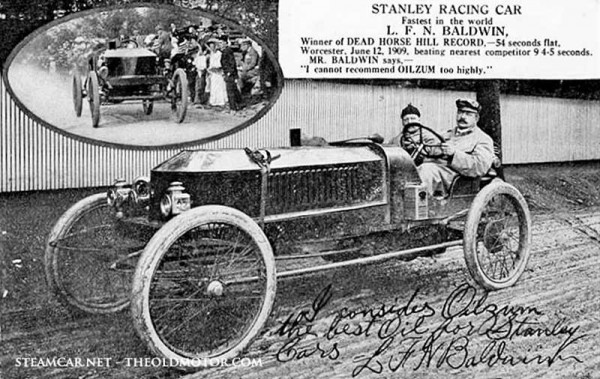 In the early years of the automobile, the hill climb was one of the most popular ways of proving a cars abilities and many manufacturers participated in them. The famous Dead Horse Hill Climb was held between the years of 1905 and 1911, in Leicester just west of Worcester, Massachusetts and was one of the most challenging of its type. The course rose three-hundred and twenty-five feet over a distance of only one mile.
The Stanley Steam Car built in Newton, only 38 miles east of Worcester was a perennial favorite; Leon F.N. Baldwin set the all-time record in the 1909 running of the event at fifty-four seconds behind the wheel of one. Baldwin's car was one of two built for the 1906 Vanderbilt Cup Race, the cars did not take part in that contest but were used in other event later on. In the gasoline-powered free-for-all, Harry Grant in a big six-cylinder Alco covered the hill in one minute and 3 and 4-5th seconds.
Racing in the early days involved sponsorships, although the dollar figures involved with them were a small percentage of what is common today. The White & Bagley Company, also located in Worcester, refined what they called the Highest Grade Motor Lubricant on Earth, and was a sponsor of early racing participants in both hill climbs and on the track.
Baldwin in his Stanley, seen at the top of the post is pictured on an Oilzum advertising postcard courtesy of steamcar.net. Below is another well-known racer of the day, Hughie Hughes that Oilzum also sponsored, in his Allen-Kingston; he took two class wins and finished second to Grant in the larger Alco in the free-for-all.
Full results of the climb were found in the July, 1909 Automotive Trade Journal, and can be seen in the left hand photo above. The center and right hand photos from the Automobile, July 15, 1909 issue, tell of a plan to build a new course for the Hill Climb with a five-hundred foot rise in a mile that would run two cars at a time. We are uncertain if this came to pass for the last two years of the event. More coverage of early hill climbs here and steam-power here.