Well, all the hard work has paid off and Duncan Pittaway, friends and crew managed to get the Fiat all together this week and it arrived at Goodwood for the Festival of Speed yesterday morning at two a.m. It can be seen above enjoying a day in the sun on Friday.
Between last Sunday when the engine was being spun over in the engine stand with a tractor to check the oiling system, and Thursday evening when the car was loaded up for the trip to the Festival, Duncan's shop was a beehive of activity. Stefan Marjoram reported the following on Wednesday morning:
"It was all hands on deck last night as Duncan, Bruce and Tucker were joined by Mark and Hughie Walker, Leonardo from Italy – and a few of the dogs too. The progress is amazing, and the Beast is looking just fantastic! I've seen most of these parts on the chassis individually over the past few years but to see them all come together is very special. I left them at 1:30am – I suspect they carried on for most of the night"…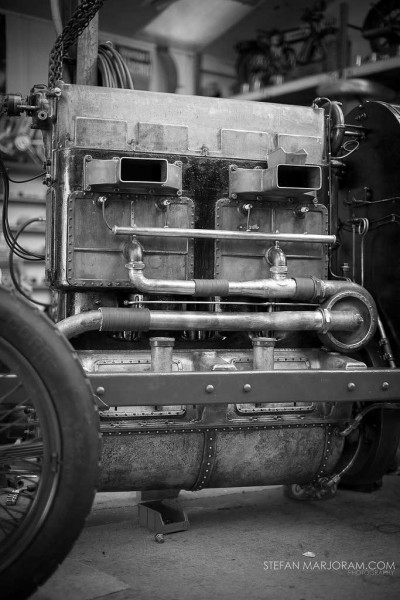 Stefan Marjoram reported the following on Thursday morning:
"After a 36 hour stint on the car it's amazing to see the chaps still smiling and joking – even after a trip to the eye hospital for Tucker. The afternoon was spent making the water hoses, and attaching the body. They decided on Wednesday with only one day to go that the remaining time would be best spent getting it all together and looking good."
Dave Biggins reported that they were still working on the car in the paddock on Friday at Goodwood, and had hoped to finish things up to the point where they might be able to get the car running today. Stay tuned for a follow-up.
The Old Motor has been following this project for the last three-plus years, and you can take a look back here at three pages posts on the S.76 Fiat; there you can see many more of Stefan's images and art, period photographs and as much information about the cars as can be found. The photos below are courtesy of Stefan Marjoram.