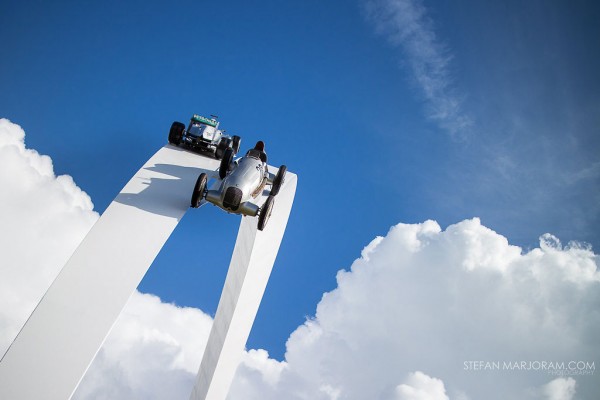 Mercedes-Benz is celebrating 120 years of motorsport's history this year that first started with the Daimler-type engine proving to be successful in the Petit Journal race from Paris to Rouen in 1894. The company had developed the engines that powered the first four cars to victory.
At the 2014 Goodwood Festival of Speed the company went all out and had artistic genius Gerry Judah create the centerpiece sculpture seen above for the event. The artwork extended over and above the Goodwood House running from the central courtyard and out onto the lawn next to the Lord of March's driveway which serves as the Festival's racecourse.
Our friend Stefan Marjoram was at the event working for Mercedes-Benz, and captured these images and also created a number of his signature sketches. Below are a selection covering the many important pre-war cars from the companies past that came from around the globe to attend.
Take a moment to visit with Mercedes-Benz at their Classic Center website to see an outstanding presentation they have put together to celebrate these 120 Years of Motorsport. You can visit with Stefan Marjoram here to view more of his exceptional work and with Goodwood here.