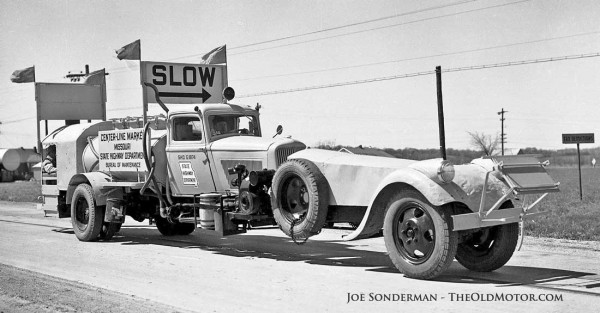 We have to admit that line-painting trucks and the use of them is a bit out of our field of expertise, but fortunately we have posted photos of earlier operations, so we have something to fall back on. Several images can be seen here of other road striping trucks that may have been taken during World War II of similar trucks. One of them was dual purpose and was also used for covering the road shoulders with boiling asphalt.
The photos above date from 1948 and show a Missouri State Highway Department unit. The mirror mounted above the front bumper on an angle was used by the operator for centering purposes, and the long wheelbase helped with keeping the line as straight as possible. By 1954, the Missouri Highway Department's striping equipment was being changed over to the pickup truck and trailer operation as seen below.
The photos are courtesy of Joe Sonderman, who has written a series of books covering Route 66. You can look back at twenty-five pages of his Route 66 photos here on The Old Motor.