In promotional photos, the surroundings or things that a product is associated with have a large impact on the public's perception of that object. In this case a set of photos was taken in 1928 for the India Tire & Rubber Co. of Akron, Ohio to promote its tires and a Auburn Sedan and a Ford Tri-Motor airplane were used for effect. India had a long history of building quality tires that were sold across the country.
The Auburn is dated 1927 or earlier and is one of several six and eight-cylinder models that the company was building at the time; if you can identify its exact year and model, please send us a comment. You can learn quite a bit here on The Old Motor about the automakers offerings in this period, and also see an informative video of a 1927 film by the Auburn Automobile Co. here.
According to the Maddox Family website: "In the spring of 1927, John Luther Maddux took delivery of his first Ford "Tri-Motor" airplane. Maddux Airlines was formed September 2, 1927 and its first flight was on November 1, 1928 from Burbank Airport to San Diego's Lindbergh Field."
"By mid-1929, Maddox had 16 Tri-Motors and two smaller planes which he used for private charter. Business was booming, but the risks were great and he was unable to obtain an airmail contract. To get the government's support, Jack merged the airline with Transcontinental Air Transport on November 16, 1929." You can learn the rest of the interesting Maddux Airlines story here.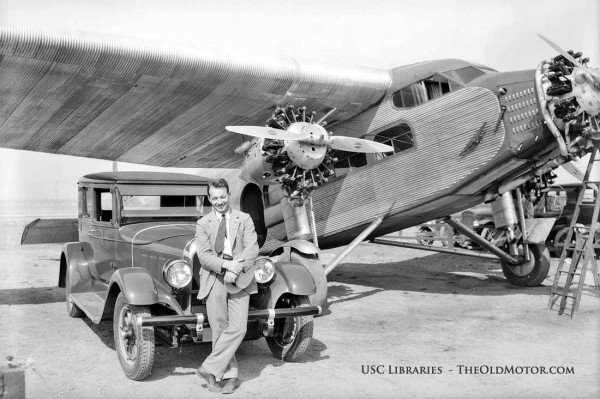 The excellent video below is from the Tri-Motor Heritage Foundation in Port Clinton, Ohio. The production gives a very interesting account of the Tri-Motor history, and also the organization that is in the process of building an authentic replica so it can have a flying version of the craft; the airplane was an important part of travel in that area in the period. You can also strap in and go for a ride in a restored Tri-Motor at a recent fly-in at Trimotor Heritage Foundation. All photos are courtesy of the USC Libraries.