Recently we posted a photo of an interesting M.C. Rogers Engineering Co. Model A Ford Sedan Delivery and were unsuccessful in learning who constructed its body. At some point years ago we found a reference that is not readily at hand to the many various different makers of Ford commercial and sedan delivery bodies; Ford at the time had many of its bodies produced by outside suppliers and we have now found an excellent online source you may find useful.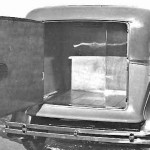 After a bit of searching, we were able to find a treasure trove of information on the subject of 1908 to 1941 Ford Commercial Bodies at Coachbuilt, one of the best online sources to be found on the subject of coachbuilders. There it was learned that this attractive and exclusive-looking body was introduced in 1930, and is called the Model A Ford Type 295-A Town Car Delivery; the builder was the Briggs Manufacturing Co. of Detroit, Michigan.
This pair of Town Car Sedan Deliveries were both photographed in the fall of 1931, quite late in the last year of production of the Model A Ford. Both images are courtesy of The Henry Ford.