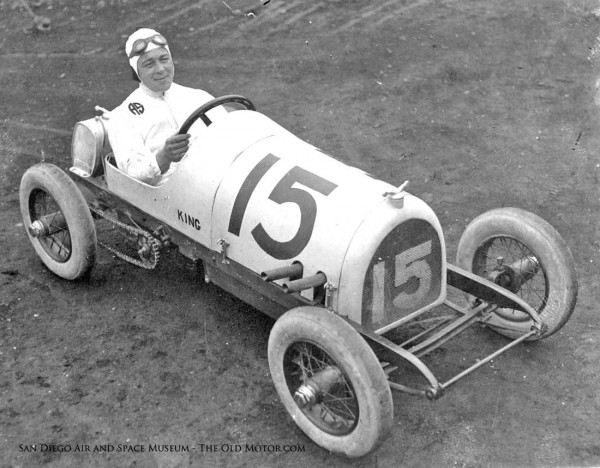 Earlier in the year we did a feature article titled: Art Smith – The Life and Times of The Comet. That post tells the story of Smith building his first airplane at the age of fifteen, his career as a stunt pilot, and a trip to Japan in 1916 with his plane, crew and drivers of his baby racing cars to entertain Japanese officials.
Since that time, Marc Tudeau of France has found an album with some of the best photos to be found yet showing the Baby Cars in Japan. The photo above shows one of the two Fiat look-a-likes. This car was driven by Vic Bertrandias and was later wrecked in Nagoya, Japan.
Above left is the other Fiat that was driven by Kaiser Bill. The center photo shows the cars in front of the Crown Price's stand in Tokyo before the first exposition race run there. It appears that there were at least two races run in the city at the time, and in at one of them Art Smith can be seen flying his Curtis Bi-Plane above the racers. The car on right above is wearing Peugeot style body work.
The cars were built with the help of Dudley Perkins of the Dudley Perkins Company, a San Francisco Harley-Davidson dealership. The left and center photos above show the workshop where the racers were assembled by Smith and his crew in a shop located at 220 Van Ness Avenue in San Francisco. The left photo is dated as being taken during February of 1916 and the center photo is captioned as showing the assembly of the first car in March of 1916. The right-hand photo with Smith in the car is captioned: First car runs! -Tokyo- April 1916.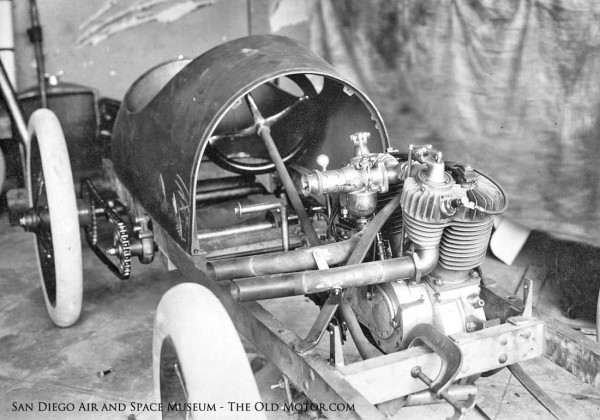 The photo above gives us the most-detailed view of the type of construction used to build the cars yet. The frames were constructed of wood with steel fittings, and the front frame horns appear to be steel forgings. The cars were powered by Harley-Davidson V-twin engines, but it is not known what was used for a clutch and transmission. This may have been an earlier car, as some of them used larger-sized wheels and tires.
The photos are courtesy of the San Diego Air & Space museum where you can see more photos of the trip to Japan. There are also more photos and Smiths life's story at: Art Smith – The Life and Times of The Comet. The short film clip below courtesy of British Pathe apparently shows the cars at a later date after returning to the U.S.