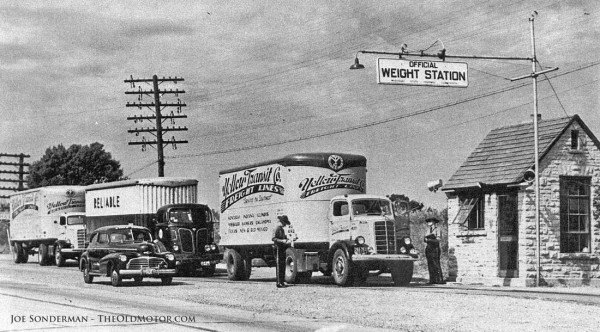 Here are a pair of interesting photos from the Joe Sonderman Collection and hopefully we can help him identify some of the vehicles in the photographs. The Weight Station above was on Route 66 somewhere in Franklin County, Missouri. The officer's car appears to be a 1942 Chevrolet, but what can our readers tell us about the trucks?
The photo below dates some ten years later and was taken in St. Louis two-miles west of Lambert Field, supposedly in June of 1958 at St. Charles Rock Road and Natural Bridge Road; the photo shows us that traffic tie-ups are nothing new. The most-interesting sight in the image is the Ford tractor pulling a trailer-load of new Edsels.
You can view over seventy-five more of Joe Sonderman's Route 66 photos here on The Old Motor along with his series of books that cover Route 66 here.