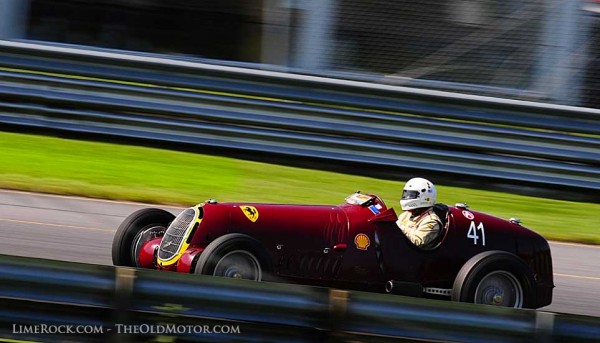 One of the most enjoyable of all vintage racing and concours events in the country, the Historic Festival at Lime Rock Park will celebrate its 32nd edition, two weeks from now on Labor Day weekend. The Honored Guest this year is Sir Stirling Moss, and you can meet him at the track located in one of the most – picturesque areas of New England, Northwestern Connecticut.
The Festival starts on Thursday with a vintage and race car parade on the scenic roads of the surrounding towns and ends up with a gathering for all in the center of quaint Falls Village. Track practice and qualifying races run on Friday and Saturday, while Sunday is reserved for the respected Concours. The event will include both racing and street-driven cars along with an impressive selection of vehicles from Ralph Lauren as he has been chosen as Honored Collector of the year.
The Concours, named Sunday in the Park, will include up to 250 rare and desirable cars that will be displayed along the entire half-mile front straight of the race track. Also of interest is the Gathering of the Marques that attracts over 700 cars to the event by car clubs and private owners from all over the Northeast, that will line the entire length of the rest of the picturesque 1.5-mile race course.
In the video above, Skip Barber and Chief Festival Organizer Murray Smith discuss just what the event is all about and what it encompasses. You can view scenes showing some the exciting racing action you can expect to see there along with the cars from Ralph Lauren's Collection that will be on display.
Monday starts with the running of the feature races with more than 300 cars in nine different races with morning and afternoon sessions separated by a break for lunch. You will see some of the most desirable and interesting vintage competition cars to be found anywhere racing wheel-to-wheel on the challenging circuit. Expect to see everything from pre-war racing cars to exciting post-war competition machines, the newest that date to the mid-1970s. You can learn all of the details here at Lime Rock Park.