Today's video is from Marc Hendrix of Brussels, Belgium, who along with his brother made this video, Late for Work using their Father's cars as a gift to him for his 60th birthday. It was made using a cheap digital camera and a windows movie maker which both add to its old time silent film look.
Follow the fun in the slapstick production where they use two British cars: A 1927 Austin Seven and a 1935 SS1. The SS cars originated from the Super Swallow Sidecar Company that first built motorcycle sidecars and then added automobile bodies to the mix. The SS1 was followed by the well-know SS-100; SS Cars Ltd. was later renamed Jaguar in 1945.
Reader Peter Robbins sent in this photo from his collection showing the Main Line Motors Ford dealership in Ardmore, Pennsylvania, at some point during the 1963 model year. The sales lot on the right-hand side of the building can be seen filled with a number of Falcons.
Hanging on the left-hand side of the showroom window, is a large 63 sales banner. On the right-hand side of the window is a large poster boosting, Falcon Wins that seems to apply to Ford's statement that it won the 1963 Manufacturer's World Rally Championship. Bo Ljungfeldt drove a Ford Falcon in the 1963 Monte Carlo Rally and managed to finish 42nd overall in a field of 307 entrants while apparently winning all six special speed stages in that year's rally.
On the far-right hand window is a poster boasting of Ford's World's Most Contagious Roofline that can clearly be seen modeled on the Falcon Two-Door Hardtop at the curb.
Reader Ivan Zaremba of Phil Reilly & Company wrote us about his experience in the Pre-War Race at Laguna Seca:
"I had a good weekend and the best race of some years and a great tussle with Brian Mullin in the 1938 Talbot T26SS and Jamie Cleary in the 1932 Studebaker Indy car. They were both a little faster, but the Railton kept them behind until the brakes did their usual late race fade. There were multiple passes and repasses all the way around, and those in the paddock tell me the big video screens showed little else. In the end, both the cars got around me and youth triumphed!" The photo is courtesy of Dennis Gray.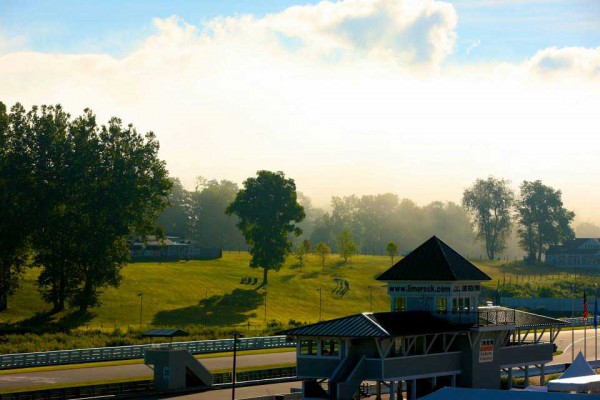 Sad news today from The Historic Festival 32 at Lime Rock Park. Vintage racing enthusiast Lee Duran, 73, of Lyme, Conn. died yesterday after a crash in his 1934 MG PA Special in a Pre-War race after something went wrong on the steep downhill turn leading onto the front straight, no other cars were involved. He was a great guy who did much of his own restoration work on his cars and in addition to the MG he also owned the 1935 Wetteroth Schoof Offy. 
He was a regular entrant at the Lime Rock Historic Festival and also ran the Scoof Offy at the New Hampshire International vintage circle track event and also participated in a number of concours here in the Northeast and at Amelia Island. Our condolences go out to his family and friends.
The Sunday Edition is for reader contributions, please join in and help us share interesting discoveries with other vintage car enthusiasts. If you have a great photo, know of an excellent video, a mystery or story, contact us here (we will send you an email address for photos) and include your full name so we can credit your submission.