A little over three years ago the press photo at the bottom of this post was found showing the Chicagoan's debut at the Chicago Auto Show in the Windy City on March 13, 1954. That image shows model Britt Karlsson using a good-sized hammer provided by the builder to demonstrate at the show how the fiberglass bodywork it is not dentable. The builder of the car, Triplex Industries, was in the explosives loading business at the time which trailed off at the end of the Korean War. Triplex Company president Frank A. Hinger decided his company should move into the car business, and the Chicagoan was the result.
Since we posted the original photo, Geoffrey R. Hacker of Forgotten Fiberglass, and originally of Chicago, and also being an owner of a Chicagoan has been researching the history of the car; his work has uncovered an amazing quantity of photographs and printed information about the car. He has found that the effort initially originated with the introduction of the new Triplex Sports Car Safety Frame during December of 1953; that offering was the basis of a kit to build a chassis for a custom body, a sports-car, or for use with one of the fiberglass bodies that were just beginning to come into vogue at the time. In literature, it was hinted that Triplex's own body was forthcoming.
After the introduction of the Safety Frame, Frank Hinger and the team working on this project kicked things into high gear and finalized plans for and produced the fiberglass body for the first Chicagoan. One of the new bodies was installed on the car completed just in time for its official unveiling at the Chicago Auto show in March of 1954. You can learn more of the details of the design and production of the car in a four-part series covering the 1954 Chicagoan – Triplex at Forgotten Fiberglass.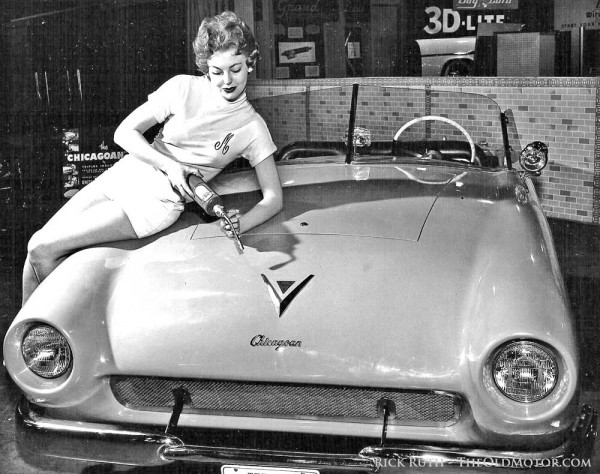 Purporting the resistance of the fiberglass body on the Chicagoan to a blow torch.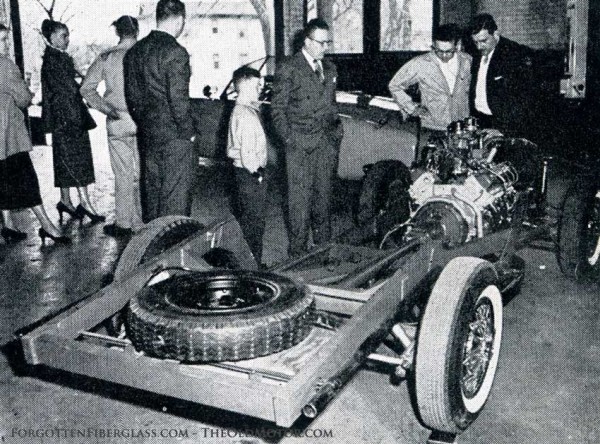 Above a detailed display chassis for the Chicagoan with an Oldsmobile V-8 engine.
Model Britt Karlsson below showing the strength of the fiberglass body with a hammer.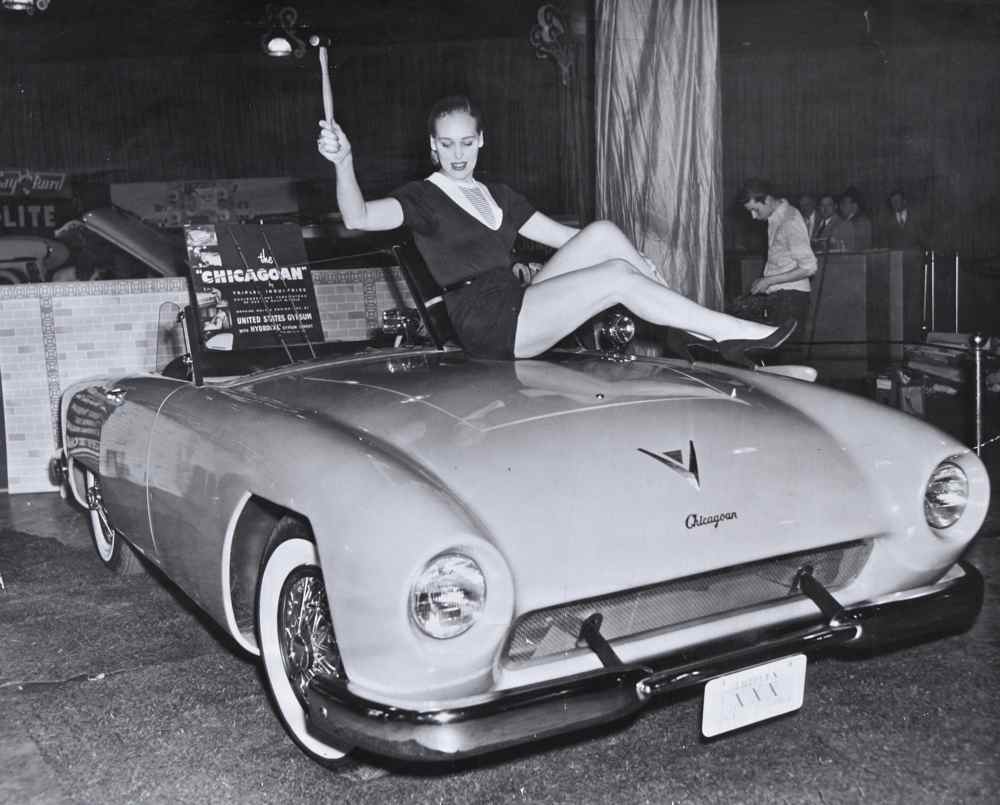 A page from a 1954 Chicagoan brochure below offering it as a kit car.