Like many automotive fads and trends, the miniature car racing movement apparently started in California in the late-1930s by individuals who constructed cars using small gasoline-powered two-stroke model airplane engines. After learning more about the little racing cars recently, and viewing some of the interesting pre and post-war newsreel films covering "spindizzies" and "tether" racing cars the sport proves to be quite interesting.
After the pursuit soon became popular, both kits and factory-built miniature cars were placed on the market. Three different ways of racing the little cars soon became popular, and running them on a specially constructed banked track proves to be the most interesting; "rail" cars and owners are visible in the lead photo at the start of a race. The rail is a narrow protruding guide on the surface of the track, just outside of the left-hand wheels that keeps each car in its lane.
Two other types of car control are also used; in one version the operator stands in the center of a track and guides the car with a cable it is tethered to. In a video below-featuring car builder Gordon A.  Babb, he operates a single vehicle and then a second individual joins into a race. The third type of control involves the cars being tethered to a center pivot and rotating around it.
The newsreel video "Popular Science" above shows Babb, a car builder working in his shop located in Pasadena, California. It appears he built his cars by assembling kits, and many of the details of the various components and parts show the make-up of his racing cars. View Babb's tire manufacturing operation in action using tire molds containing rubber on a vulcanizer used to cure them.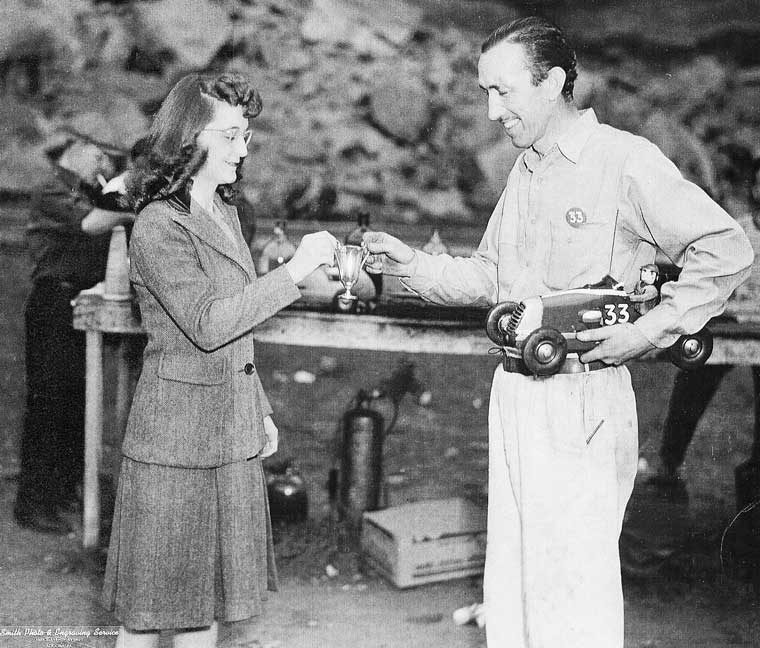 A small trophy for a miniature car at a meet in Altoona, Pennsylvania.
And finally in "Hot Rod Speedsters Part I" below you will learn more about the clubs and tracks that racing enthusiasts constructed in the post-war years. Racing action on the 1/12-mile rail-guided Hornet Hobby Race Track in Fresno, California, is included along with information about the type of fuel used, starting procedures, speeds, timing, and how the cars are shut down at the end of a race.
The photos are courtesy of, Tether Car, there you can view more images and learn about the pint-sized racing cars.