Today's feature is a re-run of a post published here on Oct 2, 2014, with the hope of finding more information about the vehicles in the images, and if any of them have survived. Charles Hayer reported the following information.
"My father and his friends built the car in the lead image in 1934 and raced it a couple of times at the Par-Troy track in New Jersey. After his driver a crashed while driving another car on the course, his Dad converted it to street use, adding fenders, a few fins and painted it yellow."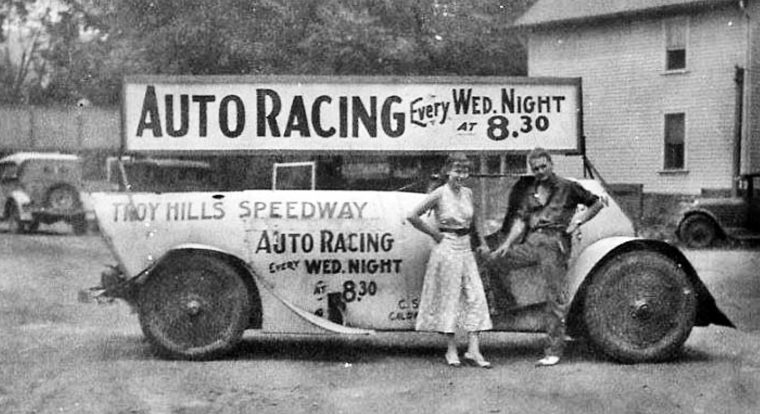 Promotional car used by the Troy Hills Speedway in Troy Hills, New Jersey. Photo circa 1930.
Robbie Marenzi a reader from South America and an expert at identifying automobiles came up with the following information published in the February, 2008. issue of Hemmings "Classic Car" magazine in the "lost and found" page. At the time Charles Hayer reported; "Luck 13′ is race car my dad (A.P. Heyer) and friends built in 1933-34. It was raced in a bare bones condition at the old Parsippany-Troy Hills Track in New Jersey, but after his driver rolled another car, my dad retired it and converted it to street use."
"The body was all hand made and dropped on a '27 Buick chassis with a straight-six engine. When I interviewed one of his old friends in the late '70s he said the last known location was in a garage in Montclair, New Jersey, but that might have been in the '40s! So this cool old gal, known as "Luck 13″, is a LOST member of the Heyer family. Perhaps your readers might like to take a look at this photo of an example of good ol' American creativity back in the 1930s."
If you have any new information about either track or the automobiles, please send us a comment.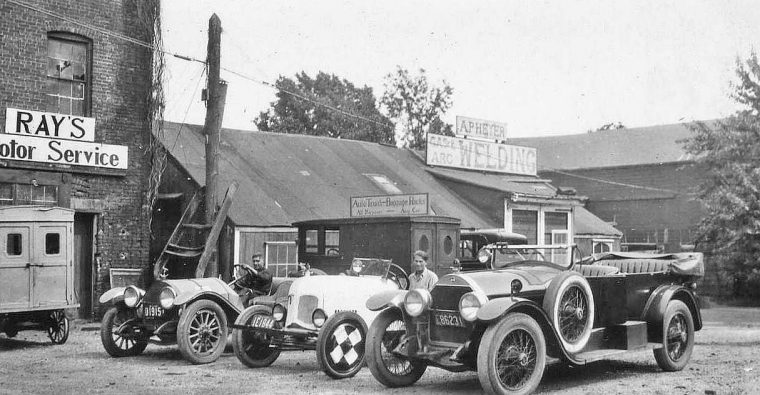 Mercer Raceabout, Model T Ford Speedster and a Stutz Touring car at "Ray's Motor Service" Montclair, New Jersey. A.P. Heyer's Welding shop is behind these automobiles.
The following article "Repair Row – Montclair, New Jersey" about A.P. Heyer was published here on 
Many towns and cities usually have an area that caters to industrial uses and the service trades. This circa early-1920s photo courtesy of Charles Heyer shows what appears to be one of these spots located in Montclair, New Jersey.
Behind the three cars in the photo (above) is an enclosed truck with a sign on its roof advertising "Auto Trunk and Baggage Racks." In front of that truck and to its right is A.P. Heyer's Welding Shop where both gas and arc welding services were offered. Like most shop operators in his line-of-work, he was a clever individual; one of two submissions by him are found in the November 10, 1915, Motor World that shows a pair of his adaptions. In Auto Repair Shop Short Cuts 1918 by Motor World, you can view a rig Heyer used for holding crankshafts in alignment while welding them.
If you have any new information about the automobiles, or A.P. Heyer please send us a comment.