The French Talbot, was part of the Sunbeam-Talbot-Darracq, and that group like other many automakers in the 1930s fell on hard times during the Great Depression. Anthony Tony Lago moved to save the company by purchasing it with the help of a subsidy provided by the French government. Lago was a trained engineer who first worked at Isotta-Fraschini, and then went on to become the director of Wilson Self-Changing Gear, in England. There Lago's engineering background helped with the development of the well-known Wilson Pre-Selector gearbox.
When Lago took over the Talbot company, he and engineer Walter Becchia set to work on combining a high-performance racing engine and a good handling chassis, with some of the most sensational coachwork of the time. The 3996 cc engine was a redesigned Talbot inline-six with a new aluminum, rocker-arm actuated, two-valve head with hemispherical combustion chambers. A Wilson Pre-Selector gearbox was chosen to back it up. The chassis features an independent front suspension with wishbones and a transverse leaf spring. The live rear axle is located by semi-elliptic springs.
Lago and Becchia also built racing cars with engines tuned to a higher standard installed in the production chassis and began racing the very competitive package in 1936. By 1937, the cars had placed first, second, third and fifth in the French Grand Prix, which gave the outstanding automobiles world-wide exposure. In 1938, a T150C-SS Coupe placed admirably in third place at the 1938 24 Hours of Le Mans. During several years of production, approximately thirty of the T150C chassis were built.
The Talbot-Lago featured here is reported to be the last of three T150C-SS chassis' that were fitted with Aerocoupe coachwork designed by gifted designer Georges Paulin and built by Marcel Pourtout, an important French coachbuilder. The car was unfinished before World War II broke out and was not completed until 1944. Post-war, Pierre Boncompagni a talented, wealthy amateur racing driver campaigned the car for a period and with it he won significant French hill climbs staged at Mt. Ventoux and Draguignan. He also managed to finish forth at the Coupe du Salon at Montlhery.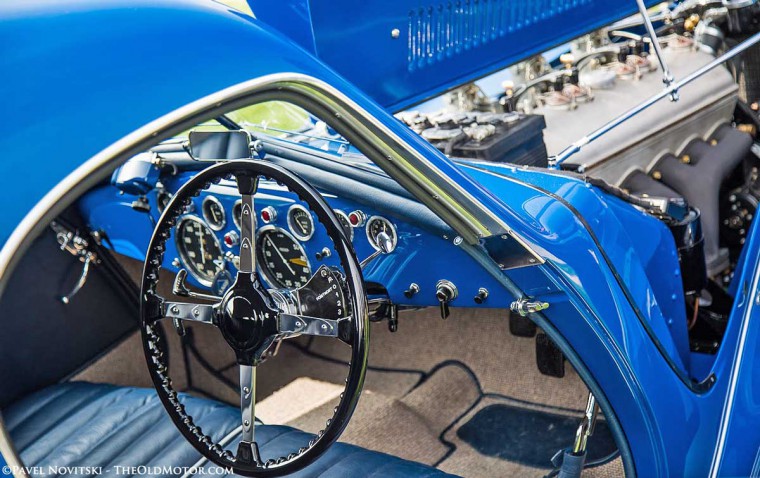 After Boncompagni died in a crash while driving a Ferrari in a competition event in 1953, the car passed through several European owners. Next it was shipped to the United States and ended up in Long Beach, California, owned by James R. Stannard Jr. Lindsey Locke a Talbot-Lago enthusiast, purchased it next in the early-1960s and kept it until 2008 when Sir Michael Kadoorie of Hong Kong, acquired it in good original condition. After a sympathetic restoration was completed on it, Kadoorie entered the car for the first time at the 2014 Pebble Beach Concours d'Elegance where it was well-received and won a first in class award.
After its debut in the U.S., it was fittingly brought back home to France for the first time in more than fifty years to be shown at the Chantilly Arts & Elegance Concours in early September. There the Talbot-Lago won a class award for exceptional French coachwork and Pavel Novitski of Novitski Classics, who attended the exceptional event took these photographs.