Recently we featured a photo of a street scene taken in Los Angeles, California, in the mid-twenties. A truck in that photo has been identified as being a Kelly-Springfield, which was built by the Kelly Motor Truck Company of Springfield, Ohio. The Company was started in 1910 when E.S. Kelly, the owner of the Kelly-Springfield Tire Company took over the Buckeye National Motor Car Company. That company was a successor to the Frayer-Miller car company that had come out with a line of air-cooled trucks late in 1909.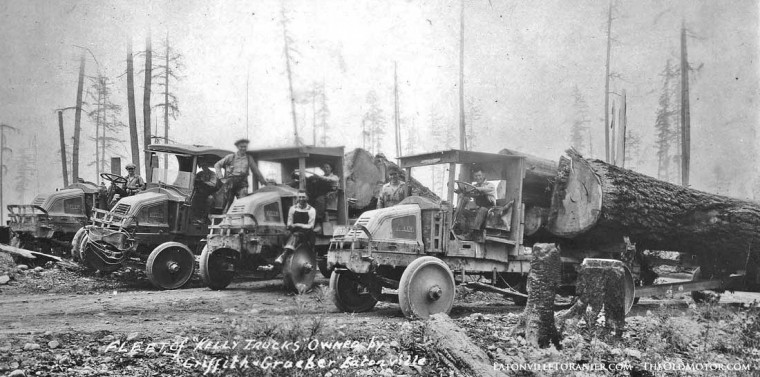 Kelly-Springfield built air-cooled trucks through the early teens when it switched over to a water-cooled engine that was manufactured in house. At the same time, the Renault-style radiator and hood was adopted and was retained until the last of the heavy-duty trucks was built in the late 1920s. Though the years a range of units of between one to six ton capacity were offered. The smaller line of trucks changed to a conventional front-mounted radiator in mid 1920s.
The photos of the Griffith & Graeber logging operations (above), based out of of Eatonville, Washington, were found via Gene Herman, who along with Park Olson both identified the Kelly-Springfield truck in Los Angeles. The top image was taken in 1923, and the photograph of the fleet seen (above) was probably taken at the same time. Information on the trucks is hard to find, but the page (below) from one of the makers brochures dating to the late-teens, shows a Five-Ton unit that is similar to the logging trucks. Two more of the heavy-duty logging trucks can found here.