This is an updated version of a post covering A.F. Sternad's Road Locomotive that we covered here in July of 2013. Since that time reader Roy Cousins from the UK has found a short British Pathe video of a period news clip film showing Sternad and the vehicle in action. We have combined the two here as it almost brings it back to life.
In the long and varied history of the automobile, there have been numerous examples of cars made up to look like something they are not. Perhaps the most long lived of all auto disguises is the car that was made to look like a steam locomotive. The earliest one we have ever seen is this clever, low slung item built in 1917 by prolific inventor and engineer A.F. Sternad, who was the Superintendent at The Chicago Solder Co. and holder of a number of patents with agricultural and industrial applications.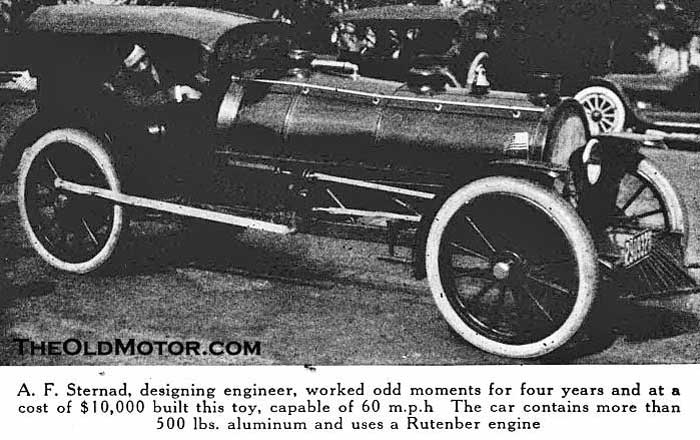 Sternad's $10,000 creation was equipped a Rutenber gasoline engine, air brakes, an air powered whistle, locomotive-type bell and a cow catcher. The look-a-like connecting rod and valve gear linkages are connected to the rear wheel to make them appear to operate like those on a real steam engine. Contemporary accounts say his creation was capable of 60 miles per hour. You can also see one of the most famous Trackless Trains ever built here on The Old Motor.