The image above of proud automobile owners posing for a photograph was a scene that was duplicated thousands of times all across the land as Americans, who could afford one, bought a horseless carriage. From left-to-right above we see three circa 1905 automobiles: a Mitchell, a Tourist that was built in Los Angeles, and a Winton. Unfortunately, nothing more is known about the garage or its location. The photo was posted by Herb Iffrig on the forum at the MTFCA, where you can learn all there is to know about the Model T Ford.
The New 1906 Maxwell Cab-Over Truck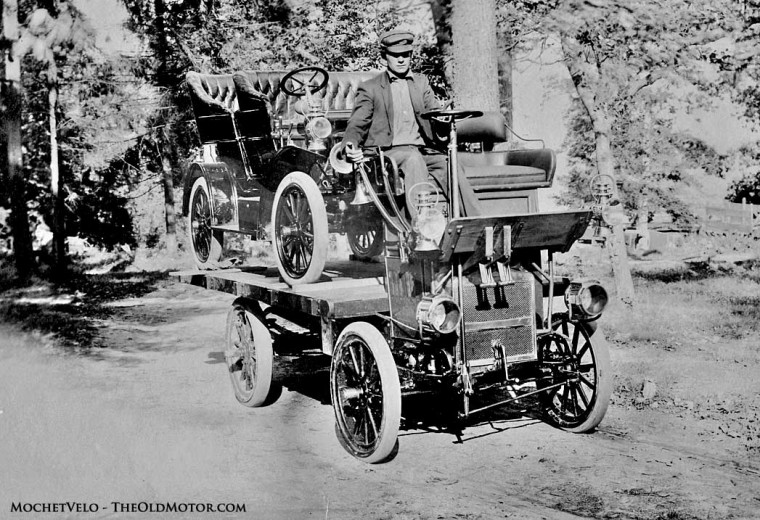 The first decade of the 1900s was a time when very few trucks were sold commercially, and the movement of goods was still the domain of the horse and wagon. Here we have what appears to be a one-year effort by the Maxwell-Briscoe Motor Company to enter the truck market late in 1905. This was also first year of production for the new Maxwell car that was powered by a horizontally-opposed two cylinder engine.
The new truck was featured late in the season in The Horseless Age magazine, October 25, 1905 issue, and introduced as a 1906 model. The new offering's chassis and running gear used many of the same components as the car with a strengthening where necessary. Framework that was enclosed was constructed to support a wagon-like seat and floorboards above the power plant and radiator. For steering a rather makeshift vertical steering column, gearbox and drag link exposed in front of the radiator was used.
For how long the truck was manufactured is unknown, as no other references to it have been uncovered, although the full details of it can be found below. It appears to have survived at least a year as one of the Maxwell Trucks was in service at the 1906 Vanderbilt Cup Races held the following October in 1906. The next truck that the automaker added its line up appears to have been in 1917. The photo (above) is courtesy of MochetVelo, who posted it on the forum at the HCCA.