The Atlanta Motor Speedway in Hampton, Georgia, was opened in 1960 and is well-known due to the high-speeds that racers are able to run at the oval track. This was not the first speedway built near the city, which experienced the excitement of auto racing on a new track built there way back in 1909. The complete details behind the short-lived venture have yet to be found, but we have been able to piece together some of the story.
The postcard image at the top of the post shows a pair of J.I. Case steam-powered road rollers putting the finishing touches on the new track. Asa Candler Jr. who had originally founded the Coca-Cola Company and was involved in politics in Atlanta built the racing oval. At the beginning of the project, Candler and others formed the Atlanta Automobile Association which worked together to acquire the close to 300-acres of land needed for the facility.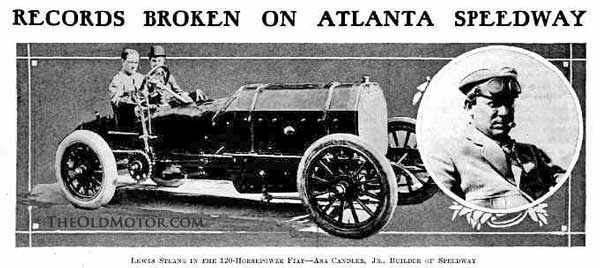 Candler later bought the property from the Association and constructed the new racetrack. Opening day was on November 9, 1909, and the photo (above) shows Louis Strang who set the fastest time in qualifying with his 120-h.p. Fiat, on the right is Asa Candler Jr. Strang went on to finished first in the Free-For-All race ahead of Barney Oldfield. The complete story of the opening event at the track and the racing results in The Automobile, November 18, 1909, issue can be found below.
The new facility did not turn out to be successful and it was only open for two or three years. Candler keep it going during that time by offering a mix of auto and motorcycle racing along with a few air shows. After World War I the site became the location of a new airport for Atlanta and in 1925 it was named Candler Field. More interesting images and a postcard showing the complete track can be found below.
George Eastman House Collection photos – The Library of Congress
         A Marmon racing car at one of the races held at the track.
Postcard image of the track – 1909 – The Old Motor.
                 

The story of the track opening "The Automobile" November 18, 1909.