Upstate New York and particularly the Buffalo and Tug Hill areas are well known for the lake effect snow storms both encounter. The two spots and other areas along Lake Ontario are traditionally blanketed with record snow falls after storms are driven in off of the Great Lake.
In the last twenty-four hours up to six feet of snow has fallen in parts of New York State, so it seems like a good time to start in on our traditional round of vintage snow storm and snow removal photos. The circa 1930 lead image shows a bus stranded on its way to Montreal, Canada, after becoming stuck in the snow on Route 9, one mile south of Clifton Park Village, New York.
Just above you can view an amazing video of a 1940 color film showing a Walter Snow Fighter in Cayuga County, New York. The truck is equipped with a Roto Wing unit used for widening previously plowed roads just before an Epic storm that winter. Later in the season it is seen in early April at Mohawk Hill in Lewis County. The video is courtesy of Plow Chaser. 
You can also view two remarkable videos showing Walter Snow Fighter Trucks that were posted here on The Old Motor last winter.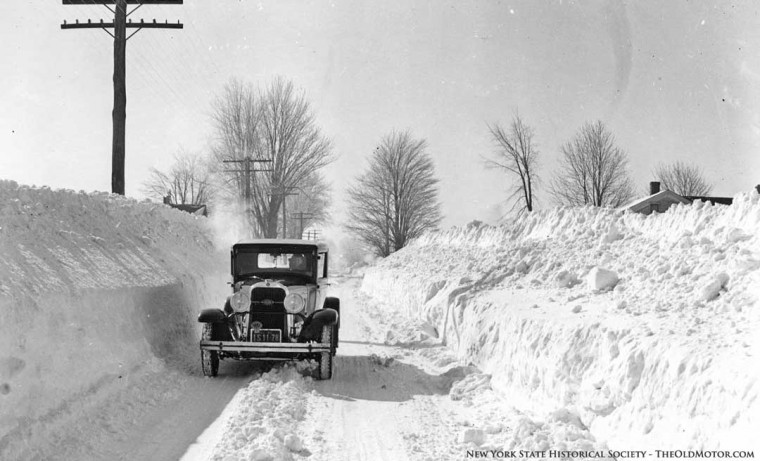 This image was taken during mid-winter in Central New York State on the Liverpool-Euclid State Highway, following a three-day storm. The location was in Liverpool, which is in Onondaga County. The photo was taken by Theodore H. Schuelke in 1936, with his wife behind the wheel of the car.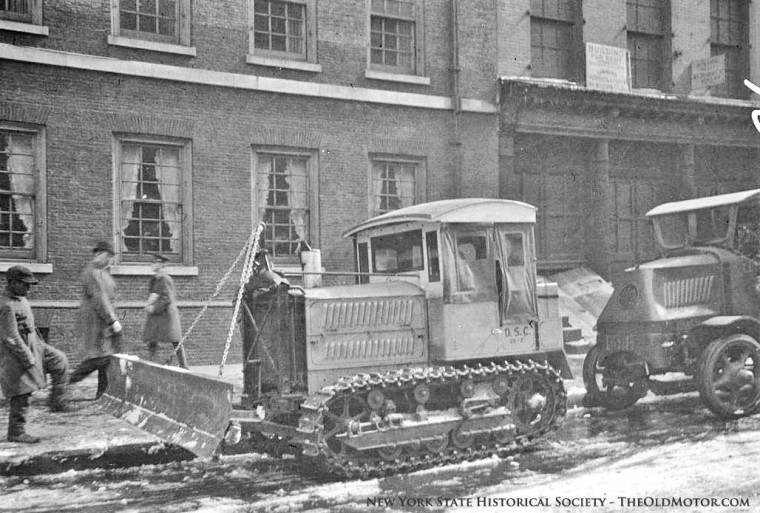 Here are a pair of photos taken in New York City.  The circa-1920 image above was taken by Frank M. Ingalls, an amateur photographer. The scene shows a municipal crawler tractor equipped with a snow plow, and a Mack truck behind it.
The street scene image below was taken on 47th Street in New York City by William J. Roege and shows a pair of taxi cabs. Interestedly the Model T Ford on the right appears to be equipped with a plated Rolls-Royce style radiator shell. If you can identify the maker of any of the other vehicles in this post, please send us a comment. All photos courtesy of the New York State Historical Society.