In trying to keep ahead of the competition, automobile manufacturers are always working on new designs, and the Packard Motor Car Company in its heyday was one of the leaders in this endless pursuit. Little is known about this experimental straight-twelve other than it appears to have passed out of the Packard Experimental Department early in 1929 after being tested. It then went to family member Warren Packard, who was active in the Company and it was used by him for perhaps six months.
According to author Beverly Rae Kimes, the family used the car in 1929 and even completed a 1500-mile round trip to Quebec, Canada. The car appears to have been a prototype that was apparently based on one of the 145-inch long wheelbase chassis' that was offered for the 745 models.
It was outfitted with tasteful Dietrich convertible victoria coachwork with a longer cowl and a hood that was roughly twelve inches longer than the DeLuxe Eight. The color scheme chosen was a sensational combination of orange with silver moldings on the body and hood with silver fenders and splash aprons. It was accented with chrome-plated wire wheels, hood vents, and trunk rack.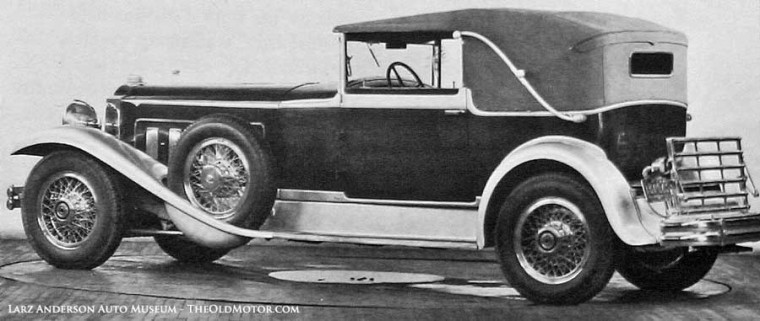 Warren Packard died late in August of 1929 in a plane crash while attending a Company sales convention. According to Kimes, after his death Packard brought the car back to the factory and removed and destroyed the unique engine, a common occurrence in the industry with experimental units. It has been reported that after the removal of the twelve, it was repowered with a DeLuxe Eight engine, or perhaps a higher horsepower 734 engine and shipped off to Mexico, far from the Motor City.
Based on what little is known about it would lead one to the conclusion that this form of a twelve was abandoned by the company, and Packard moved forward with its V-twelve that was soon introduced in 1932. Very little information has turned up about this engine or the car in spite of the efforts of researchers over the years, other than a report of it having produced around 150 h.p.
All of this leads us to wonder if our resourceful readers lead us to any solid new information or images about this car or its engine? The top and bottom photos are courtesy of Dave Mitchell. Center photo is from the Rod Blood Collection, courtesy of the Larz Anderson Museum.