This interesting circa 1939 photo shows us a wide range of vehicles dating all the way from the late-twenties on up to the then current models. There is an entertaining mix of automobiles to study in the five different lanes including a Franklin Club Sedan and a pair of identical streamlined sedans, one behind the other in line number two.
Check out the enlargeable photo below and tell us of anything notable you see or find interesting. We are hopeful that our readers can tell us how often vehicles needed to be inspected in Oregon at the time. The photo was posted on the H.A.M.B. by Gary Reynolds. See more Portland area photos below.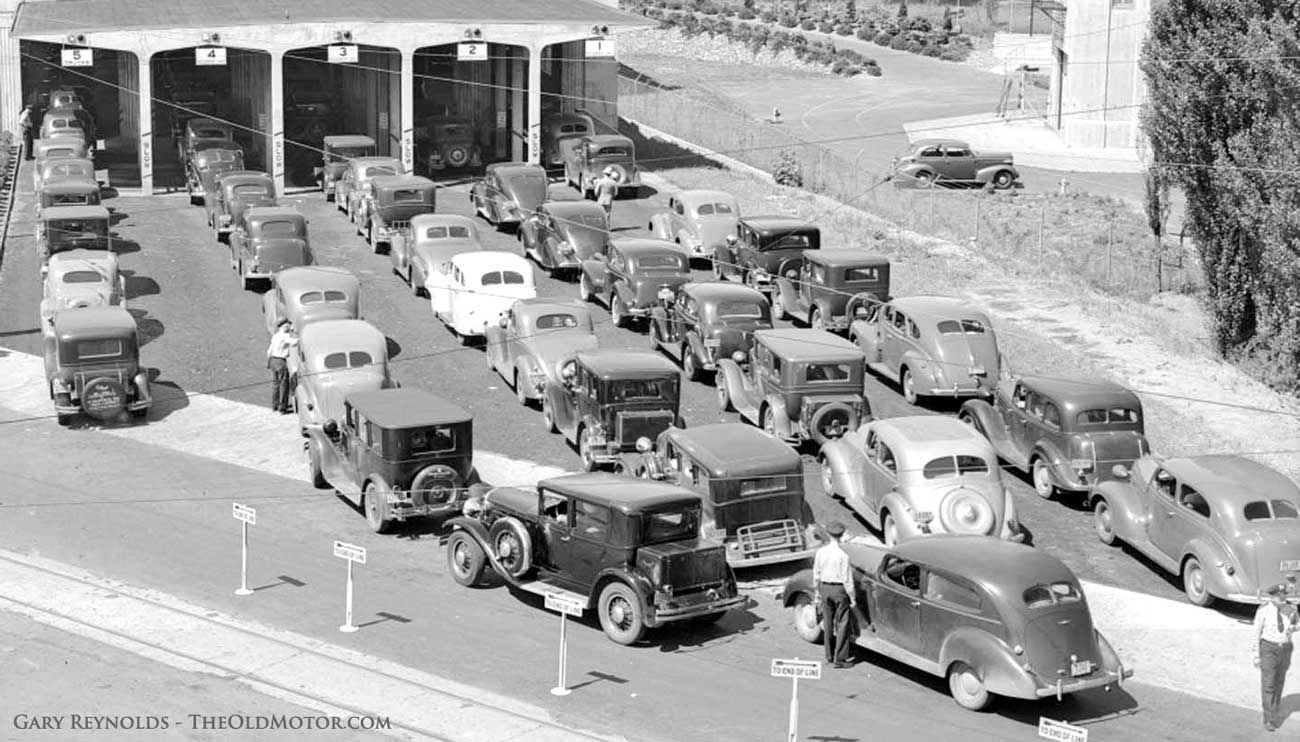 The Portland Publics Works Department photo below was taken on New Years Eve 1940 and shows the intersection at South West 4th Avenue and Morrison Street. In this photo, we again see a wide range of vehicles dating from the early 1930s on up to the late-model Ford convertible on the corner on the right. The photo is courtesy of the City of Portland.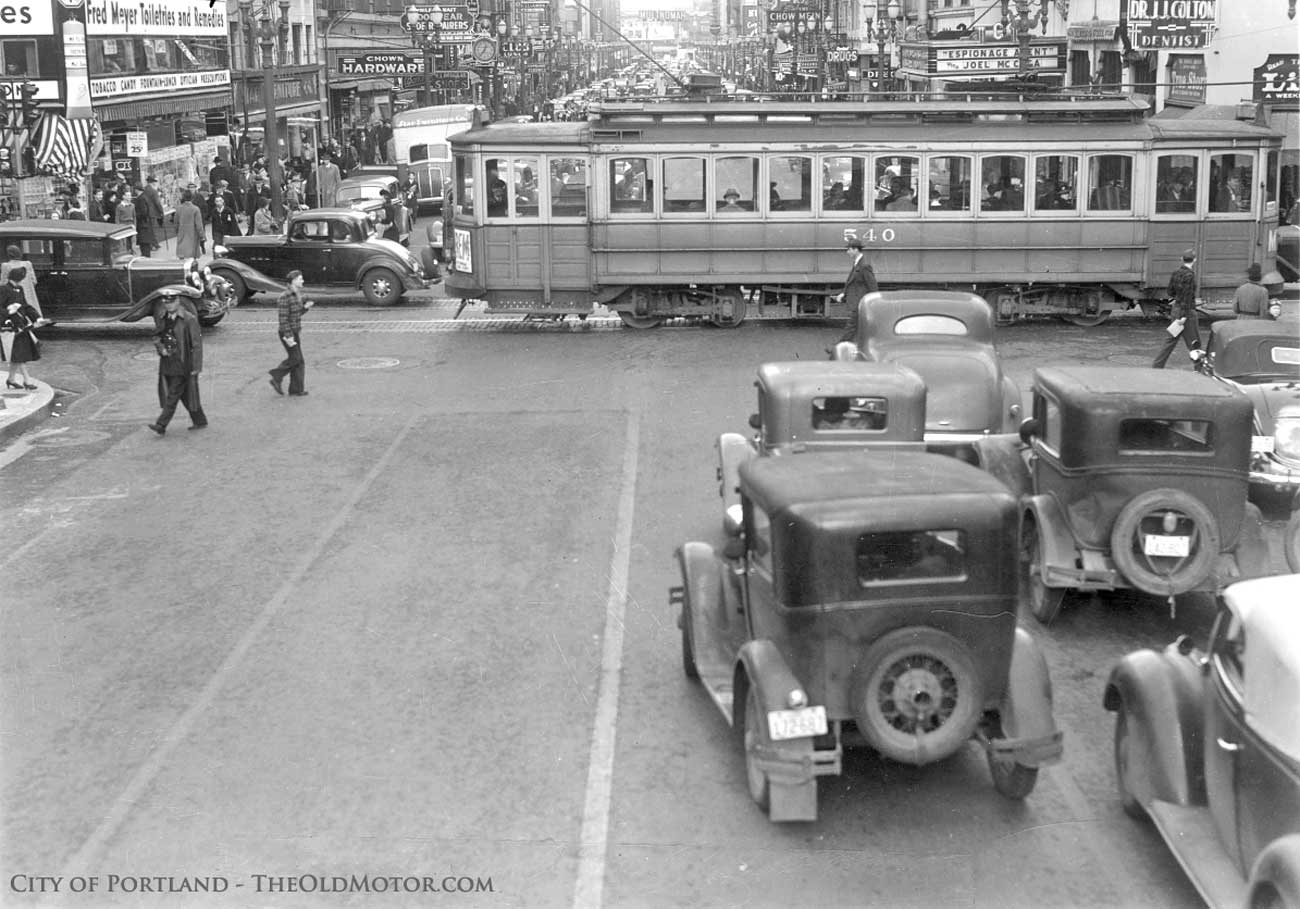 Below in Portland we see workers from the Public Works Department using heavy equipment for storm clean up on February 2, 1950. The location was South West 12th Avenue between Main and Jefferson. Note the unusual five-wheeled Scoopmobile ready to put a load of snow in a waiting dump truck.
The Scoopmobile was manufactured by Mixermobile Manufacturers Inc. of Portland starting in the late thirties. The Company has been reported to have built the first four-wheel-drive articulated wheel loader in America during 1953. The photo is courtesy of the City of Portland.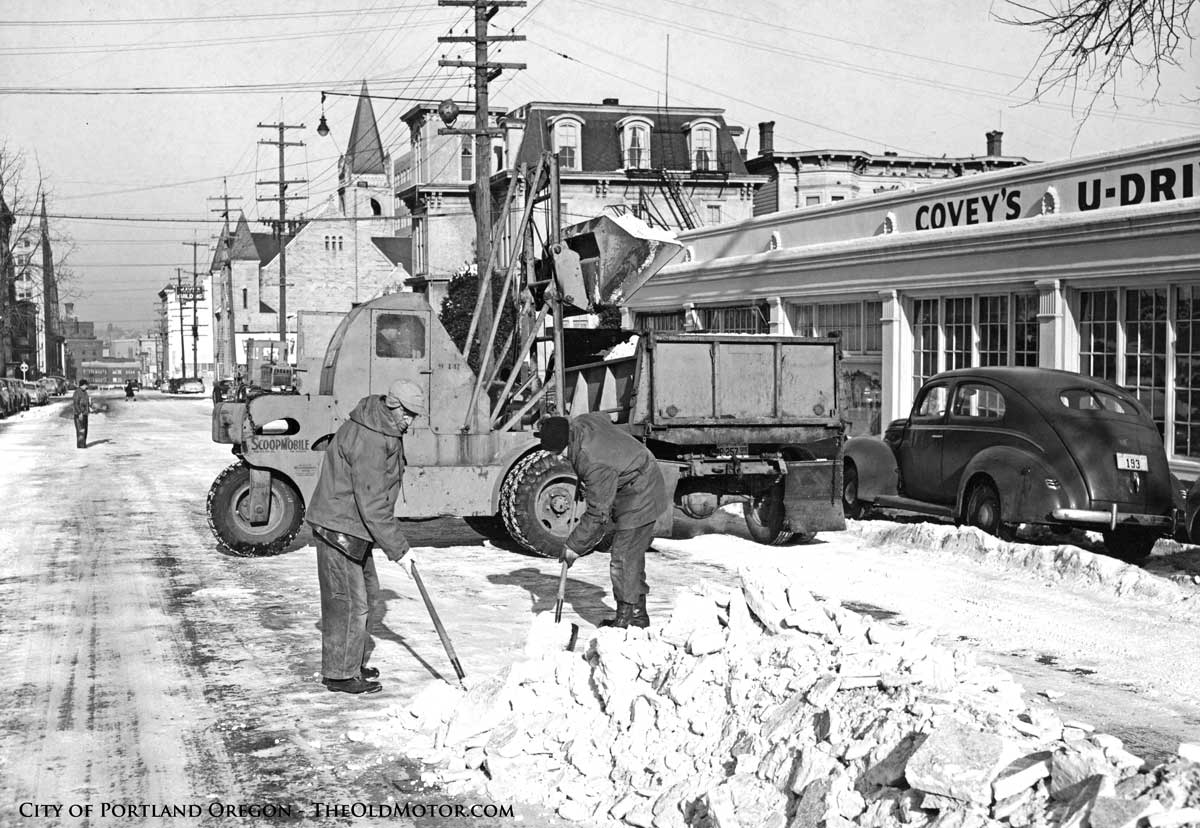 And as a final photo from Portland today we have an early postcard courtesy of Portland History showing Union Pacific Motor Car 7 in front of one of the Railroads buildings in Portland. The unit was made by the McKeen Motor Car Company that was part of the Union Pacific Railroad.
The cars were built between the years of 1905 and 1917 using both gasoline and diesel power, including one that was produced powered by a steam engine. Look for an article soon covering these interesting railcars with some great photos and patent drawings.