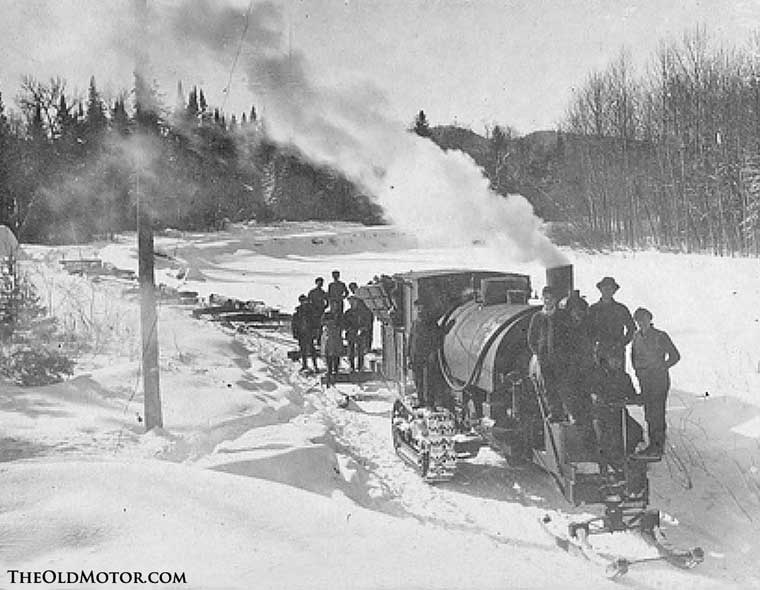 Wintertime is upon us in New England and with the ground frozen it makes for prime time for logging with heavy equipment. After not having covered anything steam-powered in a while, this pair of images and the video below found by Lombard Log Hauler enthusiast Terry Harper fits the bill. He had the following to say about his recent discovery of the film made by the Paris Manufacturing Company in Crystal, New Hampshire circa 1916:
"Considering the time of the year, I thought this video was most appropriate as it shows without a doubt the best vintage steam-powered Lombard footage yet to be seen. Note the road breaker plow visible just in front of the tracks as well as the sequences of it going down a grade. With no brakes, the engineer's only option to control the speed was to skillfully administer how the steam was sent to the cylinders by using the reverse section of the control quadrant".
"Usually any appreciable grade would be covered with straw or be dug down to the bare soil by the workers with a few scoops of gravel thrown on for good measure. Also note the stops to wood-up, a Lombard could travel approximately seven miles on a cord of wood and the bunker only held 7/8th of a cord".
After viewing the video you can look back on an earlier post: The Lombard Steam Log Hauler, a clever creation of Alvin Orlando Lombard. There you can learn all about the Lombard, see more photos, patent drawings and another video showing a restored Lombard in action. The photos are courtesy of Plowshare Forge. The video is courtesy of  Herb Crosby.