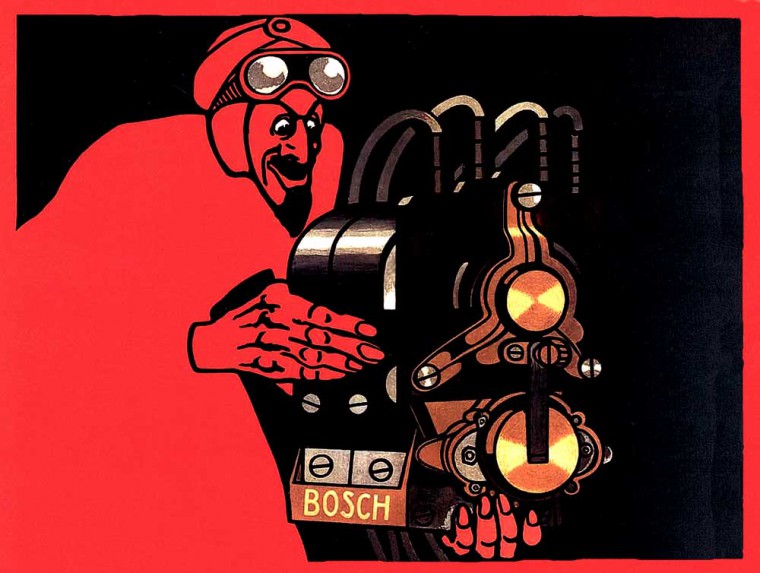 Robert Bosch, who would go on to establish one of the most prominent automotive electrical component manufacturering companies in the world, was born in Albeck, Germany on September 23, 1861. By the mid-1880s he had moved to America and was working as a mechanic at the Bergmann Company in New York City, a producer of electrical equipment. After leaving that firm, he worked for the Edison Machine Works for a time. Bosch then left the country and worked for six months at the Siemens Brothers in London, another producer of electrical devices before returning to Germany.
Bosch then returned to his homeland and opened his first facility for electrical engineering and mechanical work in Stuttgart, Germany in November of 1886; soon he was producing low-tension magnetos. By 1902, sensing that the make-and-break magneto ignition systems days were numbered, he developed and brought to market his high-tension magneto for use with spark plugs. His ignition systems soon became well known both in Europe and the United States for their reliable performance on both passenger and racing cars.
                          The first Bosch ignition coil and switch for dual magneto-battery systems,
                                            the "Cycle and Automobile Trade Journal" August 1908.
By 1906 Bosch had produced over 100,000 magnetos and decided to establish a presence here in the U.S. That same year Gustav Klein a Bosch sales executive came to this country to promote the product to both automakers, and for retrofits on existing cars. In September of 1906, Robert Bosch New York Inc. was formed and a plant was also established in New York City. The name was changed to the Bosch Magneto Company in 1908. A branch was opened in Chicago during 1908, and on the West Coast in 1909 located in San Francisco.
Percentage of cars equipped with at the three main auto shows in the world – February, 1908 "Motor".
Sales in America grew rapidly due to the expansion of the automotive industry and the excellent reputation that Bosch products had built. With sales increasing, the Company next moved into a new four-story building in New York City in 1908. By running both day and night shifts at the facility, eight to ten thousand magnetos were assembled per month. In 1910 after customs tariffs were put in place on imported products and components, Bosch opened a factory in Springfield, Massachusetts that both manufactured all of the parts needed and assembled the units in house.
The Bosch Magneto Co. booth at the Boston Auto Show in 1910 equipped with hand-operated magneto demonstration stands. The photo is courtesy of Isabelle Bracquemond.
In 1914, the Bosch Magneto Company expanded and purchased another factory building in Plainfield, New Jersey. Next the firm acquired the Rushmore Dynamo Works, also in Plainfield, which firmly established Bosch in the starter and generator manufacturing business. At about the same time, Bosch's magneto sales here in the U.S. surpassed that of its German operations.
The advertisement below in the Motor, June 1910 issue, marks the occasion of Bosch manufacturing its 500,000 magneto. Learn more about the vintage Bosch magneto here.