The British-built Napier was one of the leading makes of cars in the world through much of the first decade of the 20th century, it also preformed well in competition. In both 1905 and 1906 Napier racing cars set records at the speed meets held on Ormond-Daytona Beach. From the Owls Head Transportation Museum today we feature the postcard image above of a record-setting Napier that was donated to the museum's Lang Library by Lewis Kaler.
Clifford Earp and his mechanic used the car to set a record of 1 hour, 15 minutes and 4 2/5 seconds, on Jan. 27, 1906 in the 100 mile Gasoline Free-For-All Race on the hard-packed sand. The photo taken at the conclusion of the race seems to indicate that the pair finished the race minus a tire. The 80 h.p. machine was entered in the event by the Napier Motor Car Company of Boston.
You can view Arthur MacDonald in his 90 h.p. Napier that set a speed record of 104.65 mph in 1905 and see a video of that event in an earlier post on The Old Motor. You can visit with the Owls Head Transportation Museum here.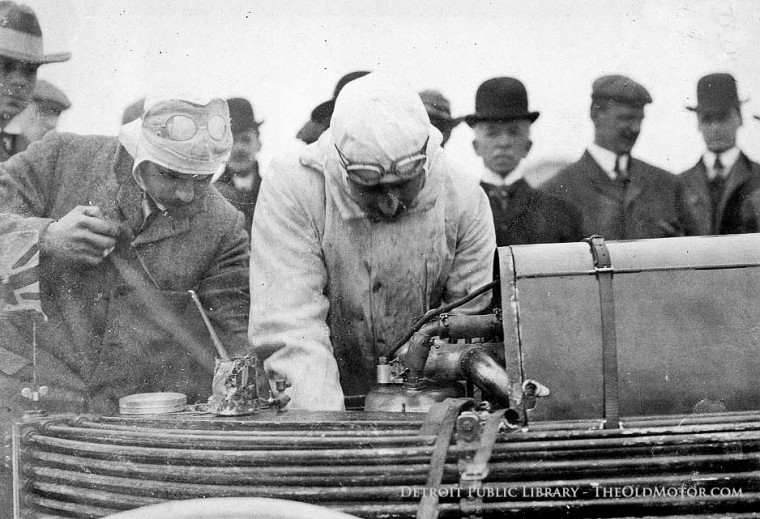 The photo above courtesy of the Detroit Public Library shows the pair working on the car at the event and gives a rare close up view of the tubular surface-mounted radiator.
In the same vein, and just in time for Christmas is this 1906 Napier racing car any child would enjoy that was made by the Toledo Metal Wheel Co. It appears to be beautifully constructed and is fully equipped with three lamps and a bulb horn. The image is courtesy of Tom Jakeway.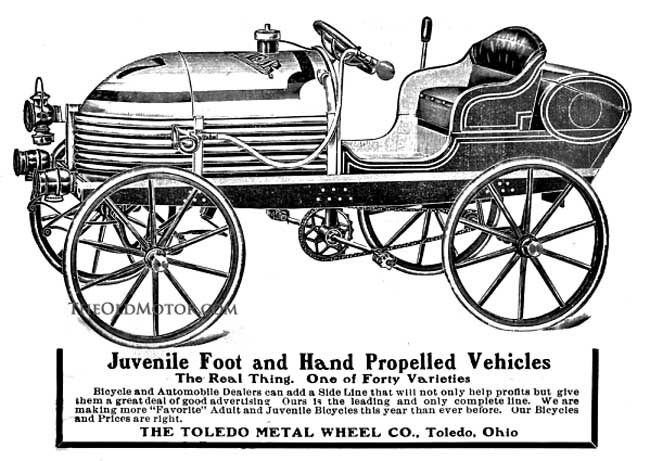 The photo below shows an American Napier which was assembled in Jamaica Plain (Boston area), Massachusetts, from parts shipped over from D. Napier &  Son Limited in England. The American Napier Company tried to capitalize on the name but it was never really a successful venture, and it came to an end in 1911.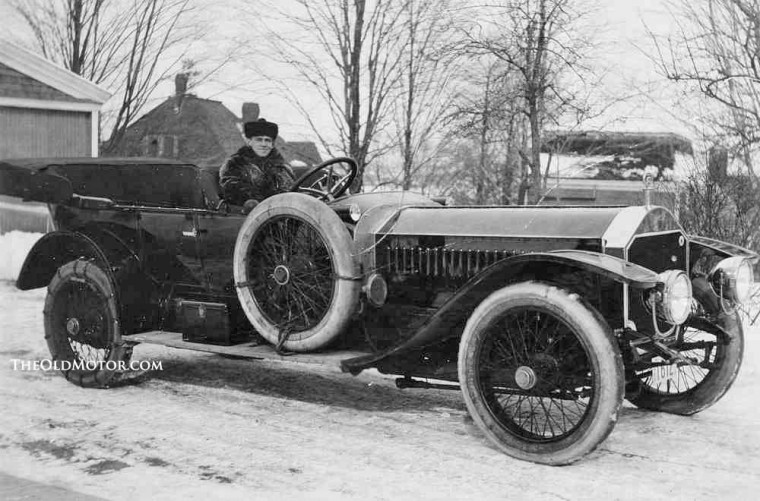 This six-cylinder Napier of an unknown model year is wearing a 1912 Massachusetts license plate numbered 1612. Investigation by Tim Martin and Eric Haartz into period registry records has found that the owner was Charles Whittemore of Newton, a suburb of Boston. This car was registered as a 101 h.p. and Whittemore also had the following vehicles registered: another Napier which was 60 h.p., (three) 72 h.p. Austins, a 34 h.p. and a  61 h.p Welch. The Old Motor photo.

    "The Horseless Age" March 1906 images show both sides of the standard 60 h.p. "Napier" engine. 

       A 1906 Napier Motor Company of America Advertisement below.