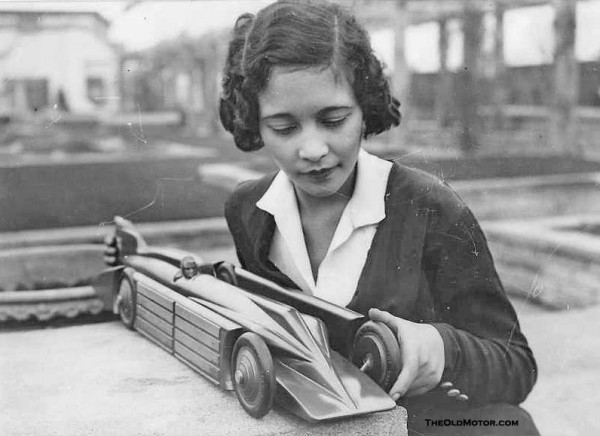 Major Henry Segrave's Golden Arrow Land Speed Record car.  There is a news release on the back of the photo indicating that it is a Christmas PR photo. I would assume this may have been to promote a model the was on sale for the season of gift giving. It is undated but looks to be a period photo.
On March 21, 1926 he set his first LSR record in his 4 litre Sunbeam Tiger Ladybird on the sands at Southport, England at 152.33 mph . This record lasted for almost a year, until broken by Parry Thomas driving Babs.
He regained the land speed record in 29 March 1927 in his 1000 HP Sunbeam  Mystery on Daytona Beach  at 203.79 mph , becoming the first person to travel over 200 mph .
Segrave set his final land speed record at 231.45 mph in his new car, the beautiful Golden Arrow, at Daytona Beach on 11 March 1929. Golden Arrow has never been used since .
Segrave was also an avid motorboat racer.
After his 1929 land speed record, he immediately went to Miami for a motorboat race against Gar Wood, multiple water speed record holder and the first man to travel over 100 miles per hour on water. Segrave won, causing Wood's first defeat in nine years. After Segrave returned to Great Britain, he was knighted for his many accomplishments.
A few months after receiving his knighthood, on Friday 13 June 1930, Sir Henry Segrave unknowingly captured the water speed record driving Miss England II on England's largest natural lake, Windermere. In a follow-up run the boat presumably hit a log and capsized, killing Miss England's mechanic, Victor Halliwell. Segrave's unconscious body was recovered, and taken to a hospital. He regained consciousness for a moment, was informed that he had indeed broken the record, then sadly died a few moments later of lung hemorrhages.