James Scripps-Booth, heir to the Detroit Evening News fortune, developed three unique vehicles during the 1912 to 1922 period when he was involved with building vehicles. The Scripps-Booth car introduced in 1915 with a four-cylinder engine, and the o.h.v. V8-powered machines that followed in 1916 were his most successful cars.
It is a rare event when full details can be found about a vehicle that is almost one-hundred years old but this case it was relatively easy. The new Scripps-Booth prototype eight-cylinder Vitesse Speedster with a guaranteed speed of seventy-five m.p.h. was exhibited at the January 1916 New York Auto Show. Found in the Cycle and Automobile Trade Journal (bottom) is an article that covered it shorty thereafter in February.
The Vitesse Speedster did not make it to production due to a decision made by the board of directors, but the V8 was offered in roadster, coupe and town car models. The four introduced in 1915 turned out to be problematical, and its Sterling engine was later replaced with a Chevrolet four.
Scripps-Booth, unhappy with the way management was handling the company resigned. The company was then absorbed by Chevrolet late in 1917 and entered the William Durant Empire. It was soon built with the chassis and engine from other GM brands and stayed in production until 1921.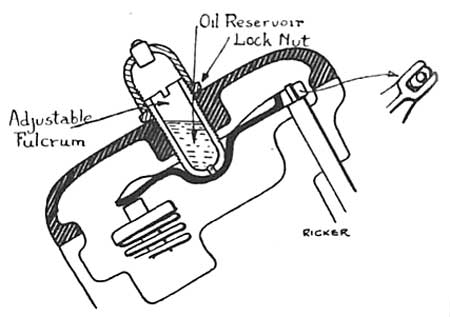 The illustration (above) from the Cycle and Automobile Trade Journal 1916 New York Auto Show coverage details the construction of the Scripps-Booth valve actuating mechanism. The Alanson P. Brush (Brush Motor Car Co.) designed engine was built by the Ferro Machine and Foundry Company of Cleveland, Ohio. The rocker arm appears to be a forging, and pivots on the rounded fulcrum and eliminates the complexity of rocker arm shafts and bushings.
Scripps-Booth was educated in the best private schools and also studied art at the Ecole des Beaux-Arts (School of Fine Arts) in Paris. His exposure to the vehicles in Europe lead to his vehicular designs being somewhat Continental in flavor, which can clearly be seen here in the Vitesse styling and others that the company built.
You can look back on earlier posts here on The Old Motor that cover his two earlier intriguing designs, the JB Rocket Cyclecar and his not to be missed BiAutogo. The top photo found via Isabelle Bracquemond is courtesy of the Cranbrook Archives.