Recently we covered the designs of John Tjaarda and the use of one of his early-thirties streamlined rear engine design concepts that was developed by the Briggs Mfg. Co. and introduced to Edsel Ford for the upcoming Lincoln Zephyr. Thanks to reader Graham Allum we now have photos showing both the front and rear engine cars. Seeing as Tjaarda was the Chief of Design at Briggs at the time it was likely that he also had input into the front engine car seen above and below.
The photos are from the August 1934 Motor magazine that reported a version of the rear-engined car was on display at the Century of Progress in 1933 and the front-engined car was on exhibit in 1934. The design of the latter car, other than the front doors and the nose, that were redesigned by Eugene T. Bob Gregorie is quite close to that of the 1936 Lincoln Zephyr. The photographs below show one of the prototype versions of the rear-engined car on a test track along with details of its construction.
The John Tjaarda designed rear-engined Briggs Mfg. Co. concept car on a test track.
Details of the rear of the car that appear to be quite like Tjaarda's earlier Sterkenburg cars.

Above can be seen the details of the construction of the unibody structure much like that used in the Lincoln Zephyr. The Ford flathead V8 engine was cooled by the air that entered the louvers in the rear quarter panels and exited through the finned deck lid. Note the round rear windows that are different than the test car which indicate this may have been the 1933 version of the car or another prototype.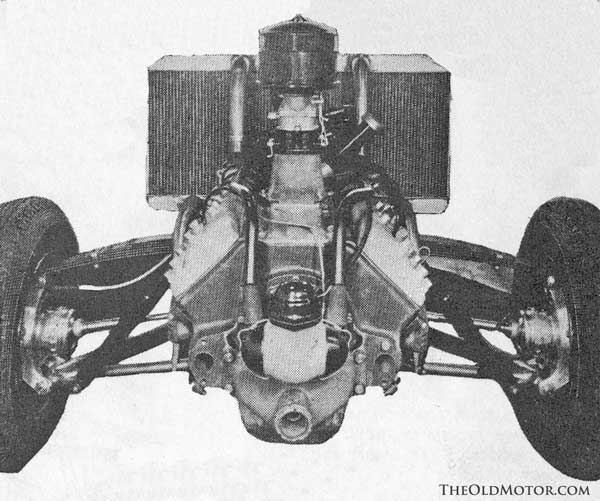 The Motor magazine article states: "The powerplant, instead of resting on a frame, is hung from a single transverse spring which connects with the independent suspension. The engine is forward of the clutch, differential and transmission assemblies. The body rests on the power unit attached by nine bolts. The car is controlled by two treadle-type pedals, the left is the brake and the right is the accelerator. The clutch pedal and the gearshift are missing because the transmission and the clutch are automatic."