Bridget Driscoll apparently was the first pedestrian killed in an accident in 1896 when she was struck by a car belonging to the Anglo-French Motor Carriage Company in London, England. Henry H. Bliss was the first to die in America in 1899 when he stepped off of a streetcar and was hit by and electric-powered taxicab in New York City. Shortly thereafter inventors probably went to work on some of the first of many Pedestrian Safety Devices that were built and tested in the last century.
Some of the earliest devices were patterned after the pilot or cowcatcher as it was commonly known, and first used on a locomotive in the early 1800s. Only three of the many different types of the devices that have been designed and built over the years are shown here along with a video of one at the bottom of the post. All of them appear to be aimed at low-speed city traffic where the pedestrian was still likely be injured, but the device might save their live by preventing them from getting run over.
Ariejan Bos sent in the lead photo at the top of the post and the image directly above of a device constructed in the Netherlands that was named the Protector. The safety net like contraption scooped up the hapless pedestrian and hopefully kept the person from going under the car. Ariejan believes that the car may be a Brown that was built in the UK until 1911.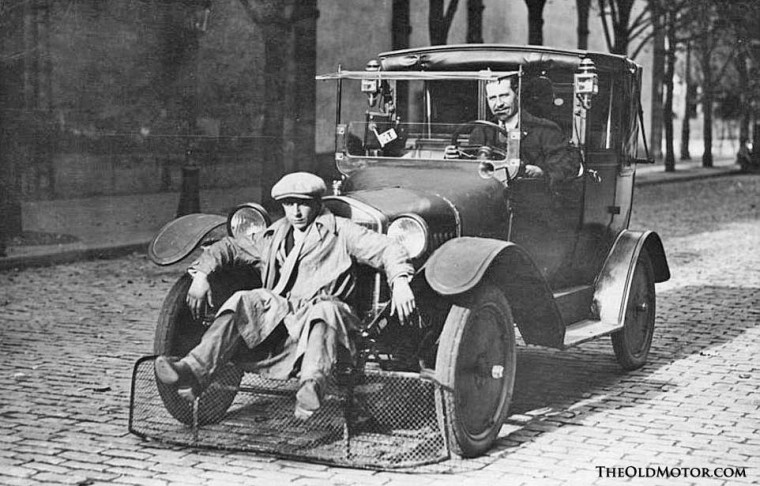 The device above mounted on a Model "T" Ford Taxi Cab was a simple guard constructed of metal and mesh. It was patterned after the cowcatcher and was used to deflect, catch and keep the pedestrian from ending up under the car.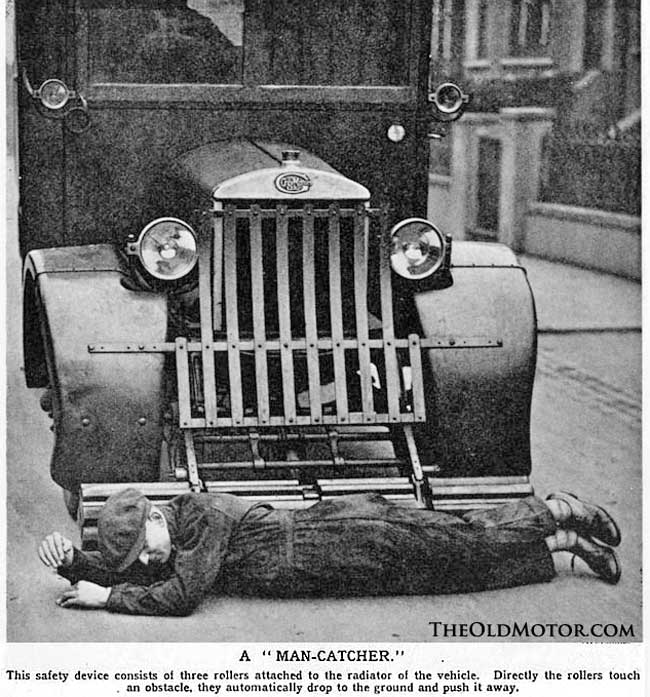 The Man-Catcher above, outfitted with complex guards and long fenders once again prevents the person from being run over; it was found via Anorak. Below is a British Pathe video found by reader Dennis M. that shows a device similar to the one shown at the top of the post. The demonstration does not show up on the video until the 0.15 mark, but it is well worth watching.