The other day while researching patent drawings for the Harley J. Earl piece, a number of automobile body designs turned up that were quite interesting. The patent drawings that were found will make for an entertaining series titled: Practical, Odd and Ingenious. This is the first part and it covers designs that start out at 1907 and continue on up to 1915.
The lead design above is by Edwin L. Thomas of Buffalo, New York, who filed a patent in 1910 for what he called an ornamental design for an automobile body. It was quite advanced for the time and equipped with an integrated aerodynamic cowl and windshield that was tapered and equipped with protective front doors. Edwin L. Thomas appears to have been the brother of Edwin R. Thomas, who ran the E.R. Thomas Motor Company.  
Jonathan D. Maxwell filed this patent in 1907 for a new, original, and ornamental design for automobile bodies. It is assumed that this body may have been intended for use as a taxi. He was the founder of the Maxwell Motor Company. At the time this patent was filed the firm had been manufacturing two-cylinder cars for two years and had just introduced its first four-cylinder model.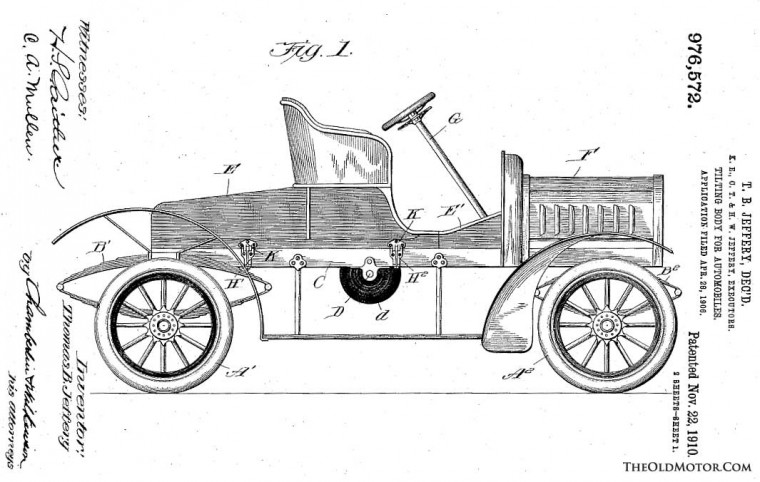 This patent was originally filed in 1906 by Thomas B. Jeffery, who first started building the Rambler in 1897. It allowed the body to be easily swung upward from either side of the frame (by using a unique hinge). This feature allowed easy access to the engine and transmission for repair and maintenance. It was  later used in production.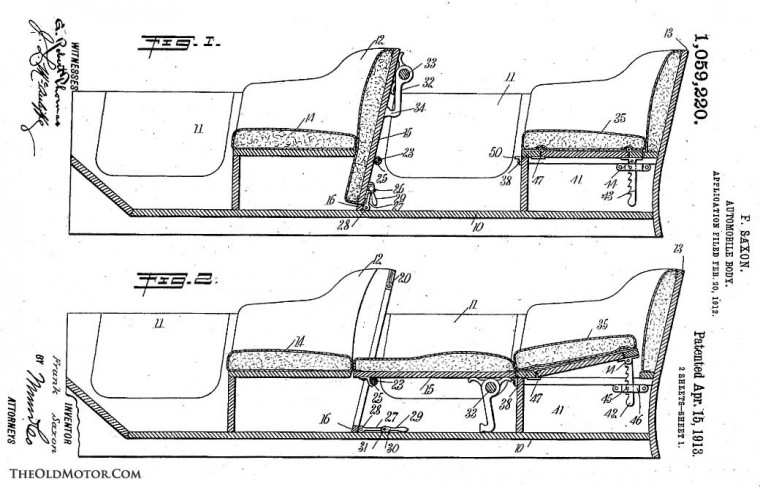 Frank Saxton of Huston Heights, Texas filed this patent early in 1912 for a seating arraignment that would allow the cushions in an automobile body to be folded down and turned into a bed. More details of its construction can be viewed here. Do any readers know of an earlier such design?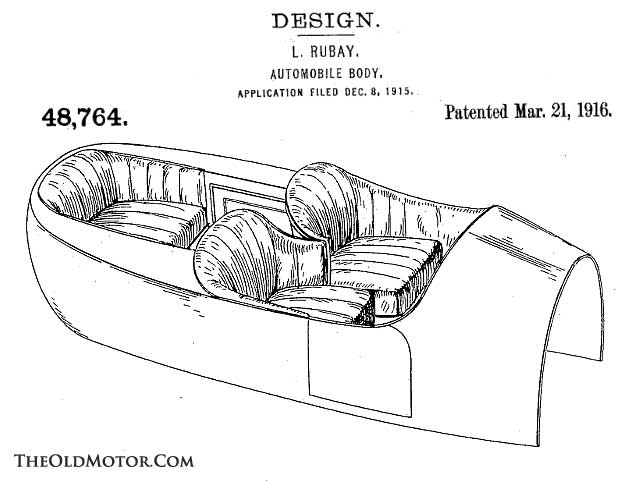 Leon Rubay of Cleveland, Ohio, first worked for Rothschild & Company in New York and then Holbrook & Company designing coachwork. He next worked on designs for White starting in 1915 that were very distinctive and interesting. This patent was assigned to the White Motor Company for whom he also started building coachwork for in early 1916. It is unknown if this concept ever reached production.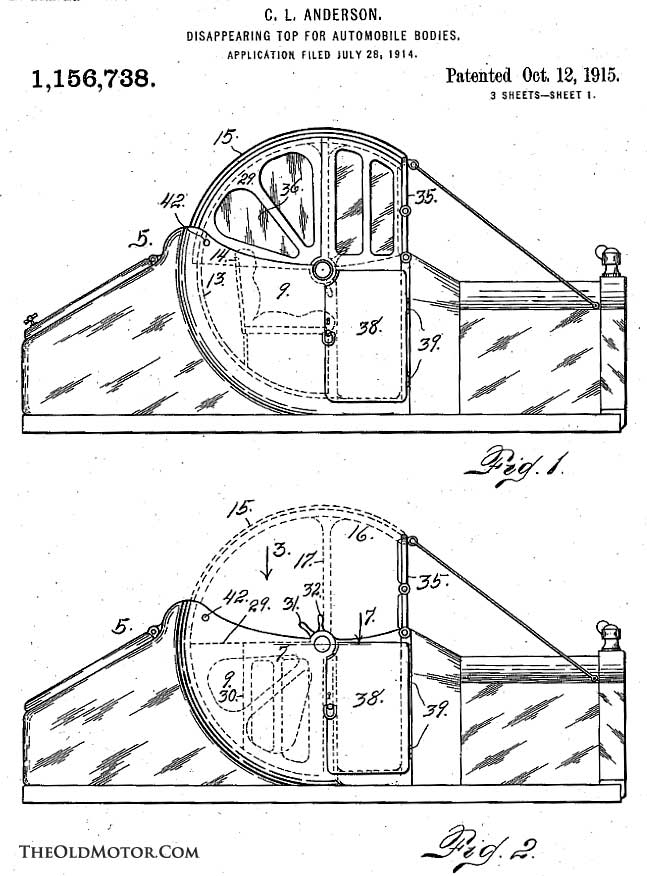 Charles L. Anderson of Denver, Colorado filed this patent in mid-1914 that may have been one of the first fully disappearing hardtops. He described it as follows: My improvement consists in providing an adjustable top whereby the body of the automobile may be completely closed both at the top and sides when desired. When the use of the top is not required, the top portions may be entirely concealed within a pocket formed in the body of the machine. The entire patent can be viewed here.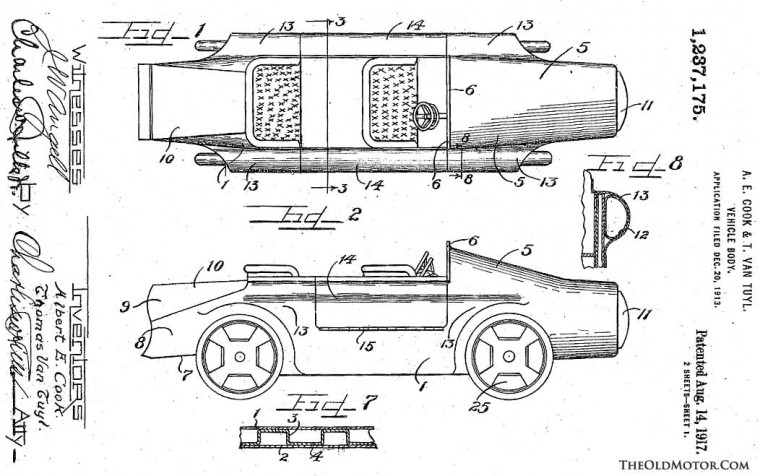 This wild-looking machine was designed by Thomas Van Tuyl of Kankakee, Illinois at some point before 1914. He assigned the patent to Albert E. Cook and the vehicle was described as follows: The object of this invention is to provide an automobile adapted for use in the wilderness, and capable of use in regions where unbridged streams and lakes are encountered.
The water-tight body was equipped with six independent and individual air chambers (seen in fig-8) that could hold either pressurized air or gases. In addition: Section 11, (at the front) which  is circular in cross section and slightly tapered, and which affords when extended, an air and water tight compartment that greatly extends the length of the body and increases the buoyancy and stability of the craft when used in the water.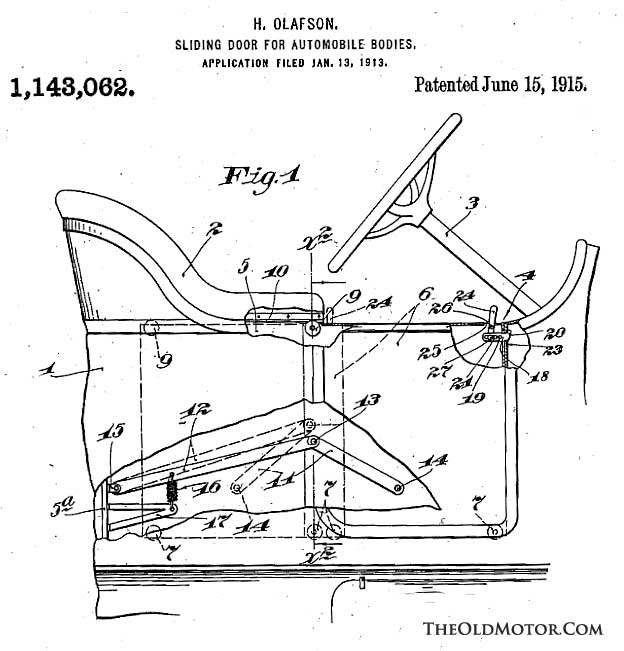 And finally Halvor Olafson of Bowdon, North Dakota, may have invented the first automotive pocket door which he patented and described: My invention provides a sliding door for automobile bodies which has many advantages over the swinging door now in general use. One of these advantages is that when the sliding door is open, the same is entirely out of the way and hidden from view. Another advantage is that in hot weather the sliding door may be left open, thereby making riding much more comfortable.