Brown's Garage has been located in Florida, Massachusetts on the Mohawk Trail, an east-to-west scenic highway since the 1920s. Last October the Trail on Route 2 in Northern part of the State celebrated its centennial. The climb to Florida from either direction is very steep and was hard on early cars. Stanley Brown shared the following story of the family garage on the Model "T" Ford Club of America Forum.
My Dad opened the Garage in 1920, and his most repeated repair was replacing the burnt out number one connecting rod in Model "T" Ford's that were low on oil before coming up the slope. He and his helper would team up and work on both the top and bottom of the engine at the same time, replace the connecting rod and have them back on the road in short order.
He would send the burned out connecting rods to Springfield, Massachusetts, and have one-hundred at a time re-babbitted. Business at the garage was so good, partly due to the Ford repairs that he was able to buy the Buick Roadster seen in front of the Garage brand new only three years later in 1923.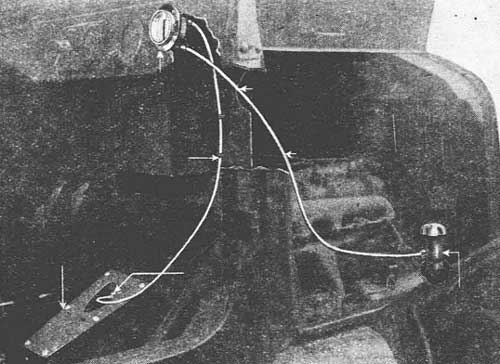 Just two of many of the aftermarket auxiliary oiling systems that were manufactured for the Model "T" Ford to supplement its primitive splash oiling system. Above is an outside oiling system with a sight feed gauge mounted on the dash. These popular devices moved more oil up to the front of the engine where it was needed. No relation, but the Brown Sub-Base Oiler below was an add-on accessory that increased the supply of oil the engine carried.