In 1929, the Goodyear Tire and Rubber Company introduced the Airwheel, its first low-pressure balloon tire for use on airplanes. Alvin J. Musselman developed this tire and Goodyear referred to it as the "Musselman Type" in press releases. It used a small rim and a large section tire that was capable of carrying heavy loads. In airplane use, it also eliminated the need for costly shock absorbers due to better cushioning abilities.
The Airwheel was patented by Musselman and the rights were assigned to Goodyear. The Company announced it to the public in August of 1929. Earlier in the summer, the Tire Company paraded one of the enormous twelve-feet tall by four-foot wide tires only needing to be inflated to three p.s.i. with a tractor-trailer (below) around the city of Akron, Ohio, to publicize it.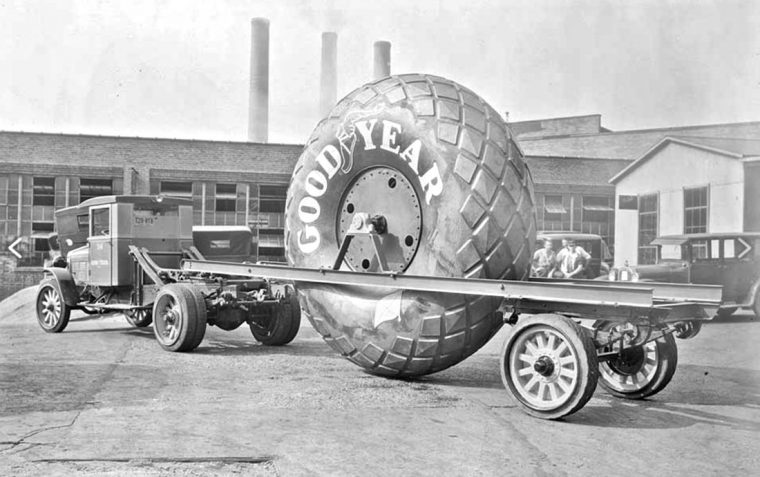 One of the first Goodyear Airwheels mounted on a trailer.
After testing the tires Goodyear had the Flxible Co. of Loudonville, Ohio, construct a three-door bus body on a lengthened 1929 Buick chassis. The lower rear panel of the coachwork was constructed with a recessed area where the swing-arm attached to the car frame by the use of a fifth wheel.
This Buick towing the first tire began a tour that covered close to half of the states in the country over a two-year period. A second Buick tow car was built, and the pair toured the nation during the early thirties. In 1930 Goodyear offered the passenger car sized Airwheel's for use on Fords and Chevrolets. At that time one of the new automotive balloon tire and wheel assemblies were attached to the sides of each swing-arm for comparison purposes.
The Goodyear low-pressure large-section tires and small diameter wheels for use on passenger cars, like the others of its type did not become popular in the marketplace at the time. The cost of purchasing a new set of tires and a matching set of rims was an option only the well-heeled motorist could afford during the Great Depression. The General Tire Company also introduced its General Balloon Jumbos, a similar type of tire and wheel assembly at about the same time.